The Full Day of Dance© is the BEST way to do something you love and try something new. Five classes: all open to mixed levels, each one hour long, fifteen minute break between each class. You may take one or any number of classes. BEST DEAL & MOST FUN: TAKE THEM ALL!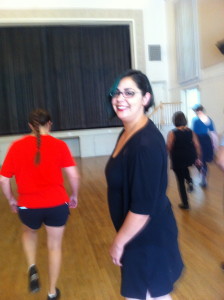 Audreyanne Delgado Covarrubias: extraordinary Tap artist teaches Tap on Full Day of Dance© Saturday, May 19, 1:15 – 2:15 p.m.
Here is the schedule for Full Day of Dance© 2019. Doors open at 9:30 a.m.
10:00 a.m. – 11:00    Ballet ( mixed levels, no pointe work, all adults welcome, ages 15 & up & up) 11:15 a.m. – 12:15    Pilates mat (please bring a mat or towel, good for Pilates fans & newcomers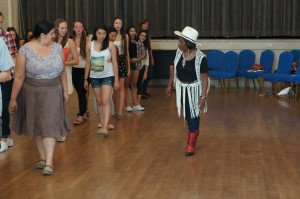 Etta Walton leads the audience in her Electric Line Dances. Take her amazing class, Saturday, May 18, 2:30-3:30
1:15 – 2:15 p.m.       Tap (If you have tap shoes, that's great; if not, wear shoes that will stay on.) 2:30 – 3:30 p.m.       Etta's Electric Lines (This is a wonderful class for all ages and all dance levels) 3:45 – 4:45 p.m.       Ballroom (Waltz & Cha Cha; no partner? no problem. Partners are provided).
REGISTER NOW & receive Early Bird rates. EB rates end one month before the event. Class costs: Price per class reduces with each added class. Early Bird registration: $20 single,$36 for 2; $48 for 3; $56 for 4; $60 for all five; Regular registration: $25 single; $40 for 2; $54 for 3; $64 for 4; $70 for all five. Please send a check made out to The Lively Foundation to: The Lively Foundation, 550 Mountain View Ave, Mountain View, CA 94041-1941  OR  pay at the door (no Early Bird at the door) OR go to the landing page of this blog (livelyfoundation.org), scroll down until you see the DONATE sign. Click on that and follow directions for using PayPal. PLEASE IF you pay through PayPal notify us through email that you are doing that and which classes you want to take. THANK YOU! See you on March 18 for a great day of dance!
Contact livelyfoundation@sbcglobal.net with any questions.