With great sadness, The Lively Foundation announces the passing of Ann Woo. Ms Woo was a participant and supporter of the International Dance Festival@Silicon Valley. She taught a week long (M2F©) workshop and a class on Full Day of Dance© in Classical Chinese Dance, IDF@SV 2015. In addition, she choreographed a premiere work for her dancers to perform in the 2015 Festival Concert. It is a shock to realize she has been taken from us.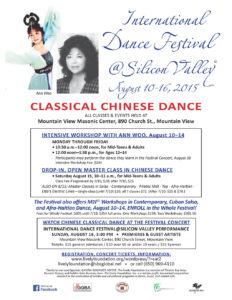 It was a special delight to offer her teaching Classical Chinese dance to both adults and young dancers, age 12 and up. She was an exceptional person in so many ways. She was the Founder and Director of CPAA, Chinese Performing Arts of America. She earned a Master's Degree in Electrical Engineering and was a successful business woman in Silicon Valley. She has an incredible 9 patents to her name. When she studied EE at UC, Berkeley, she was the only woman out of 120 students!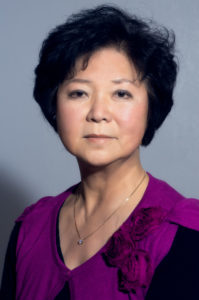 Ms Woo turned her energies to advancing the understanding of Chinese culture through the arts, especially dance. She received many awards. she was the Co-Founder of the Asian Heritage Council, Chair of Arts & Culture for the Cupertino-Hsinchu Sister Cities Association, Executive Director of the Chinese Folk Dance Association in San Francisco. Her company has performed in major theaters in San Jose and San Francisco, and she has been profiled by SPARK on KQED-TV.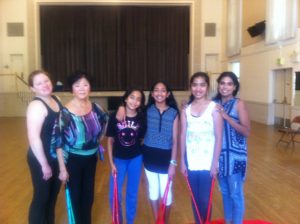 Ann Woo (2nd from left) with some of her students at IDF@SV, 2015. Usha Srinivasan, far right.
Chinese Classical Dance has a very special way of moving that makes the dancer seem to glide through the air, just above the floor. Ann determined that her IDF@SV students would learn that and the beautiful manipulations of props, enormously long silk scarves or fans, which is an integral part of the dances.
A personal note: I met Ann Woo through Usha Srinivasan, Founder & Director of Sangam Arts. Ann and I met and immediately hit it off. We shared personal and artistic values. Then, I learned that another friend, Leianne Lamb, had taken Chinese Folk Dance classes from Ann. So, although we saw each other far too seldom, there was a feeling of the net of community holding us together. When I saw her at her Center, she had beautiful roses from her garden on her desk. She loved her roses. She invited me to present my dance, Face to Face, a  quartet, on her Gala Spring Festival. It was an honor to be part of this exceptional program which included music and dance of several different Chinese cultures. I admired her immensely hard work in establishing her Center and her dedication to expanding understanding through sharing culture. This is a very great loss.