The San Francisco Symphony, led by Guest Conductor, Andrey Boyreko, February 24, created a world of exciting, entertaining music and deep, desperate music exposing the reality of Stalinist Russia. Boyreko showed that he was the master of the lyrical, dynamic, and challenging Bernstein works as well as Shostakovich's Symphony. The program included Divertimento (1980) and Serenade (1954) by Leonard Bernstein. These great pieces were performed with verve, enthusiasm and tremendous musicality by the SF Symphony. Part of the salute to Bernstein in the year of his 100th Birthday, the performance proved that the artists of the SFS have wholeheartedly embraced Bernstein's music and do a brilliant job of communicating it to their audiences. Divertimento has eight movements, each one completely different: from the Waltz and Mazurka to the Samba and Turkey Trot, and because it is Bernstein, the Blues. Sometimes fun or funny, always totally original, was a terrific example of Leonard Bernstein's inventiveness and ability to make music of every kind.


Andrey Boyreko (Left), Leonard Bernstein (Right)
Vadim Gluzman, the Guest Artist, solo violinist, demonstrated why he is celebrated world wide. In his comments online, quoted from the music journal, Strad, he says that Serenade is about love. That sums it up. Bernstein uses the theme of Plato's Symposium with each philosopher in attendance choosing to express a different kind of love: physical, mythic, dancing, dedicated. Mr. Gluzman truly captures the high spirited and loving feelings of what is actually complex music. His whole presence played with the characters of the music and the visions of Bernstein. If you have any chance to hear him perform, do not miss it.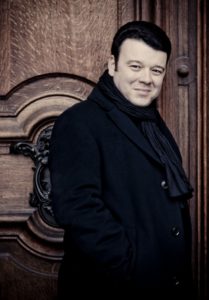 Vadim Gluzman
The second half of the program was Symphony No. 5 in D minor, Opus 47 (1937) by Dmitri Shostakovich. It is interesting to me that I heard several times before the concert the "official" response from an unnamed, Soviet critic*, saying that the Symphony No. 5 was "a Soviet artist's reply to just criticism."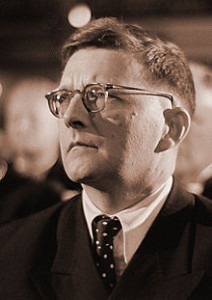 Dmitri Shostakovich
The problem is more with those who hear or read that without knowing what Shostakovich faced in his life or cannot imagine living in a totalitarian state. There were those who took that comment to mean that this enormous work by one of the greatest composers was somehow a step back from his true art. I cannot accept that idea. To hear this music is to hear protest in the rapid, almost rasping repetitions by the violins and the nearly ear splitting high notes that come again and again. It is a symphony of beauty and rage. Its militaristic sound comes to the audience as irony, making bitter fun of the militaristic regime which put poets and artists in the gulags to die and persecuted Shostakovich to the point that he would stand outside his house late at night so that when "They" came to take him away, "They" would not disturb his family. This brilliant, heart wrenching symphony is no step backward. It is a blatant, powerful act of resistance available to all who will listen. Guest Conductor Boreyko and the SF Symphony propelled this alert to all humans into alarming, moving, completely unique music. Lengthy, standing applause for Vadim Gluzman, Boreyko, and the Symphony demonstrated that the San Francisco audience got it.
*There are various theories of the identity of the critic. some believe Shostakovich himself put it out. If it did come from him, the irony runs deep.