The Lively Foundation is proud to announce the release of The Story of Our Butterflies: Mourning Cloaks in Mountain View, the new book by Leslie Friedman. It is a beautiful book with many full color, often full page photographs by Jonathan Clark and Leslie Friedman.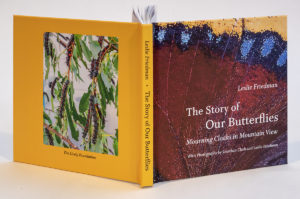 Front cover is a close up of the wing of a Mourning Cloak butterfly. Back cover shows Mourning Cloak caterpillars devouring willow leaves.
The story begins when Mr. Clark and Ms Friedman observe a butterfly lingering on a tiny branch of a pussy willow tree. They see that the butterfly has lain eggs and bring the twig inside to protect the eggs from predators. The story continues through all the stages of life: egg, about five different stages of caterpillar, butterfly. More than 125 butterflies were released in nature preserves. The continual and rapid growth of the caterpillars, their vigorous appetites, the beauty of the butterflies make a suspenseful and engaging tale,
The book explores the relationship of human cultures to butterflies through Chinese legends, Shakespeare's plays, American pop music. It reveals the desperate plight of all butterflies as the climate changes. There are fascinating Appendices which include an array of butterfly information: how a border wall between the US and Mexico endangers butterfly existence; how to say "butterfly" in many languages; how butterflies symbolize hope for diverse individuals and groups. Questions are answered: does the woolly bear predict weather like an insect version of the groundhog? Did Nathaniel Hawthorne write about butterflies and happiness?
CHRISTMAS IS (always) COMING! Remember books from The Lively Foundation: beautiful to look at, enlightening and entertaining to read. Great for birthdays, Mother's Day, everyday when you want to read a great book. Be cozy this Christmas: shop from home and let Lively package and send your gifts. Ways to buy this book are listed below this picture.

!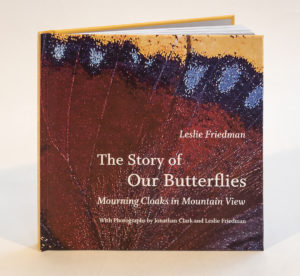 The Story of Our Butterflies: Mourning Cloaks in Mountain View is available now from The Lively Foundation. Two ways to order it:
#1) Make your check for $36 to The Lively Foundation and mail it to The Lively Foundation/550 Mountain View Avenue/Mountain View, CA 94041-1941   Price includes postage.
#2) If you prefer to use PayPal instead of a personal check, please add $1.25 for a total of $37.25. Go to the landing page of this site, scroll down to see the DONATE button, click on that, follow PayPal's directions.   Price includes postage.
#3) Hand-delivered book cost is $29.95.