It's spring! The flowers are blooming and the butterflies are flying. Weather is now warm enough to facilitate their flight. You did not know that butterflies require a particular warmth to be able to fly? Time for you to read THE STORY OF OUR BUTTERFLIES: MOURNING CLOAKS IN MOUNTAIN VIEW, the wonderful new book by Leslie Friedman. It is available at the Bird & Beckett Bookstore in San Francisco, the Stanford University Bookstore at Stanford, and through The Lively Foundation.  The story begins when Jonathan Clark, award winning photographer and husband of Leslie Friedman, sees a butterfly laying eggs on a pussy willow tree. Jonathan and Leslie clip the twig, keep it inside in a container with willow leaves, and then a bigger container, and then in an outdoor butterfly house. They feed the always hungry caterpillars, wait for the chrysalises to open, and then release more than 125 butterflies in nature preserves.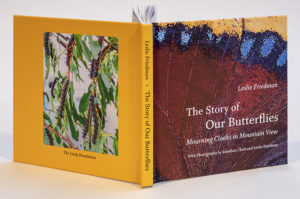 Book cover: front is close up of Mourning Cloak wing and back shows caterpillars on willow leaves. Photos by Jonathan Clark. The book has many full color pictures by Jonathan Clark & Leslie Friedman.
The book also explores the deep cultural ties between butterflies and humans as seen in Chinese legends, Italian operas, Shakespeare, American pop music, collectors, and artists. The amazing Appendices include the story of the caterpillar which is the insect equivalent of the Groundhog for predicting winter, the plight of the Western Monarch Butterfly, the murders of men protecting the Butterfly Biosphere in Mexico, and the destruction of private property and the National Butterfly Refuge, sacrificed for a border wall, in Texas.
Butterflies, though endangered, symbolize HOPE to many individuals and cultures from survivors of genocide to families in San Jose, CA, who supported a mural showing butterflies flying out of books on the wall of an elementary school.
Visit these bookstores! Stanford is open for browsing from 10 a.m. – 2 p.m. daily and also takes orders over the web or phone. You can pick up your book anytime or have it shipped. Bird & Beckett is open noon- 6 p.m. Tuesday-Sunday, at 653 Chenery St., SF 94131, 415/586-3733. It is located in the wonderful San Francisco Glen Park area.
Please see http://www.livelyfoundation.org/wordpress/?p=3477 for Butterflies Released! and how to buy from The Lively Foundation.