The San Francisco Symphony may have returned to Davies Symphony Hall many months ago, but for this music lover April 28 was the night that confirmed my wistful belief: It all sounds better live.  The program offered excitement that I did not realize I had craved for more than two years.  Klaus Makela made his SFS debut conducting Peru Negro (written 2012) by Jimmy Lopez Bellido; Concerto for Violin and Orchestra (1935) by Alban Berg; and Symphony No. 10 in E minor, Opus 93 (1953) by Dmitri Shostakovich.
Maestro Makela, a Norwegian, has received many honors in a short time. At age 25, he is Chief Conductor and Artistic Advisor of the Oslo Philharmonic and Music Director and Artistic Advisor of the Orchestre de Paris. This program demonstrated that he is adept at understanding and leading music from widely different eras and composers. Similarly, the SFS demonstrated along with Maestro Makela that they can make brilliant music that glows and lives no matter the style or era.
The program opened with composer Jimmy Lopez Bellido onstage to introduce his music. He explained that while in the US, living in Berkeley, he took time in Lima, his home town. He delved into the sounds of street vendors making songs announcing what they offer. In a question- answer form, the songs grow into stories told by the orchestra. He noted that the African and traditional Peruvian modes were more parallel than intertwined, but he sought to bring them together, and he achieved that goal. He also explored his fascination with rhythms with African origins. The piece was simultaneously delightful and challenging. The closing percussion was thrilling.
Berg's Concerto for Violin and Orchestra was dedicated to 18 year old Manon Gropius, the daughter of Alma Mahler Werfel and architect Walter Gropius. Berg had known Manon since since was very young. She died from polio, a heartbreaking event for Berg as well as for Manon's parents and friends. The Concerto is major work, about 22 minutes long. Its four movements of expanding emotions reflect characteristics of Manon from the opening Andante through Allegretto, Allegro and the final Adagio. The violin soloist, Ms Vilde Frang, also a Norwegian, played with expressive power and passion. The end is more tragic for having heard the Allegretto and Allegro before it. Ms Frang was embraced by the deeply moved audience.
Shostakovich's music is always great, and this is the right time to hear him, especially Symphony No. 10. When the content of this program was chosen, it is unlikely that anyone thought that Stalin or his political off-spring could be on so many minds. Russia's war on Ukraine and the echoes of Stalinesque behaviors in suppression of a whole country can be seen on every channel. Stalin and his helpers followed, criticized, and punished Shostakovich through his life. The death of Stalin, in 1953, could have meant the liberation of his composing creativity if Shostakovitch had not been so worn down and terrified for his family. However, in No. 10 the composer paints an audible picture of experiences in such a dictatorship.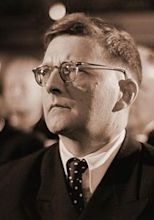 Dmitri Shostakovich
The long first movement is full of fear and uncertainty. It is like an entire population stumbling and crashing into stone walls. The second movement is said to be a portrait of Stalin. It is fast and angry. One would not want this music to chase after oneself. The final movement is something completely different even after the astonishingly "different" beginnings. It has quiet moments that say "let's meditate about this" and daring, playful times that seem to promise escape. The SFS woodwinds added heart piercing and glorious solos to this expressive movement. Just when a listener might think the direction could take us down to the depths, there is a coded message from Shostakovich. He found a way to spell his initials in musical notes. He does it right here knowing his survival is a triumph.
Photos of Klaus Makela, Jimmy Lopez Bellido, and Vilde Frang by Stefan Cohen, courtesy of SF Symphony