It is Christmas Eve. There will be wonderful events tonight and great celebrations tomorrow. And then…???
You could relax with a beautiful book, a highly praised book with beautiful pictures. OH, yes, it's a great time to read. The Lively Foundation is proud to offer magnificent books around the calendar, but, right now in this special time between big holiday happenings, Lively offers two of its books on special prices. Buy two and (1) one of them is half price and (2) Lively will pay the postage. They can be two of the same book or one of each. Buy one and take %15 off the price.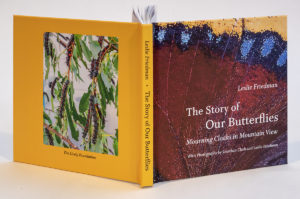 The Story of Our Butterflies: Mourning Cloaks in Mountain View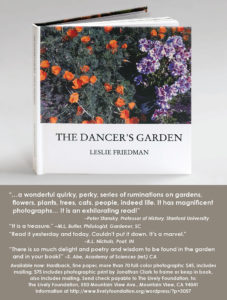 The Dancer's Garden
Two: Natural history and garden memoirs by Leslie Friedman:
The Dancer's Garden, "I love it. It is a perfect book, in conception and execution….a marvelous writer…" Diana Ketcham, House & Garden, Editor; Books Editor, The Oakland Tribune (ret)
"There is so much delight and poetry and wisdom to be found in the garden and in your book!" Sharon Abe, CA Academy of Sciences (ret)
The Story of Our Butterflies: Mourning Cloaks in Mountain View, "This is a wonderful book. I look forward to sharing it with the rest of our staff here." Joe Melisi, Center for Biological Diversity, (national conservation organization)
"Leslie Friedman is an historian, a dancer and choreographer, and now a perceptive writer about nature…in a second splendid work she takes wing into the world of butterflies…One is grateful for this delightful book, so well written and illustrated." Professor Peter Stansky, Author, Historian, Stanford University
HOW TO BUY THE BOOKS?   DO IT SOON!
For example: One copy of The Dancer's Garden (without postage) costs $42.00
One copy of The Story of Our Butterflies (without postage) costs $27
BUY ONE OF EACH and get them both for $55.50 or $48.00

OR   BUY Two Dancer's Garden for $63   OR  BUY two Our Butterflies $40.50
If you live in California, please add tax $4.11 for Dancer's Garden and $2.20 for Our Butterflies
SEND A CHECK MADE OUT TO THE LIVELY FOUNDATION to The Lively Foundation/550 Mountain View Avenue/Mountain View, CA 94041-1941     OR
TO USE A CREDIT CARD: Go to the landing page of the livelyblog   http://www.livelyfoundation.org/wordpress
Scroll down the page to see the PayPal logo; click on it and follow their directions
IF YOU USE PAYPAL:  Please include $1.50 to cover the PayPal fees. Yes, they do charge non-profits!
QUESTIONS? EMAIL US AT                   LIVELYFOUNDATION@SBCGLOBAL.NET     THANK YOU!