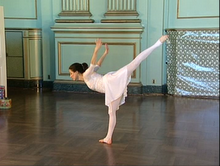 The Lively Foundation is proud to announce a new class, Adult Ballet. The class meets at 7 p.m. at 890 Church St., the Mountain View Masonic Center, Mountain View, CA. The class will be taught by Leslie Friedman. Dr. Friedman, Artistic Director of The Lively Foundation, has experience teaching professional dancers and beginners. She taught the Ballet Rambert, London, England; national ballets of Poland, the Cairo National Ballet, and dancers at the three Chinese ballets/academies in Beijing, Shenyang, and Shanghai, among others. She focuses on good technique to protect your body and the love of movement. Her goal is for everyone of whatever experience and training to enjoy themselves dancing.
Dr. Friedman has performed to great acclaim around the world. The US State Dept. sponsored her tours with host countries in India, Russia, China, Spain, Hungary, Romania, Poland, and many other countries.
The class meets Tuesday evenings, 7:00-8:15. Dancers may buy a 10 class class card for $130 or drop in for $15 per class. There must be 4 class card holders to keep going.
For more information, please email livelyfoundation@sbcglobal.net or call 650/969-4110.