Over the years, the Merola Opera has made it possible for The Lively Foundation friends to attend some of its wonderful performances in San Francisco. Named after Gaetano Merola, the first director of the San Francisco Opera, Merola is THE great training program for professional singers. They spend a year in Merola and go on to become world famous stars. Just a few of their graduates are Ruth Ann Swenson, Thomas Hampson, Deborah Voight, Brian Asawa. In July, Lively friends attended a comic Mozart opera performed by the Merolini (singers in the program carry this festive name), Il re pastore.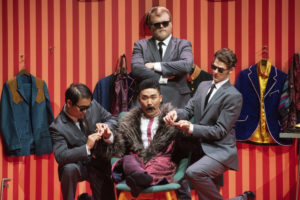 Zhengyi Bai as Alessandro in Il re pastore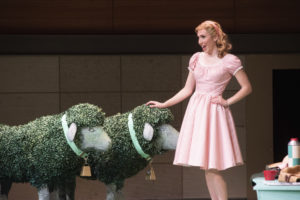 Patricia Westley as Elisa in Il re pastore
On August 18, a group of Lively friends will attend the Merola Grand Finale at the San Francisco Opera House. It will be a sensational evening. All of the 2018 Merolini will perform. The program includes arias, duets, and other groupings selected from many different operas. The voices will be excellent. Watch the Lively Foundation News & Events and the Hedgehog Highlights on livelyfoundation.org for a report and review of this great event. It's the Merolini's graduation party, and we are invited!
photos by Kristen Loken, courtesy Merola Opera