This will be a short review article. We have spent too much time searching for superlatives for the superlative cast of The Marriage of Figaro.  Mozart's opera of 1786 is now being presented by the SF Opera. There is no time to waste: go buy your tickets. This is a spectacular performance of an opera which will delight your intellect, satisfy your brain's beauty receptors, activate your physical response network. Future dates: October 19, 22, 25, 27, November 1. Curtain goes up at 7:30 p.m. except for the 2 p.m. matinee on Oct. 27. Be there.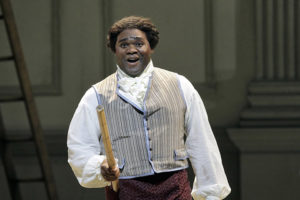 Michael Sumuel, American bass-baritone is Figaro
Mr. Sumuel is a perfect Figaro. He is handsome, he has great presence, his voice is just wonderful. He communicates wit, grit, and intelligence laced with revolutionary spirit. He is in love with Susanna, but he has not let love mess with his brain. Not too much. Figaro is the character invented by French playwright Pierre-Augustin Caron de Beaumarchais. Despite his aristocratic name, Beaumarchais "got it" about relationships between servants and those they serve. His play, The Marriage of Figaro, was written in 1778. The American Revolution had knocked the British back across the Atlantic. Louis XVI's censors were not happy about Beaumarchais' play, so the wily playwright changed the setting to Spain. Louis XVI had reason to be jumpy: the play opened in 1784; the French Revolution opened 5 years after. In the play, the servants are as smart or smarter than the spoiled nobles. They have to be to stay employed and still keep their personal identities.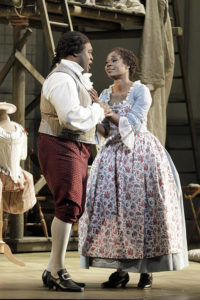 Michael Sumuel with Jeannine De Bique, Soprano, Ms De Bique sang Susanna making her debut in this role and her first performances with the SF Opera. Ms De Bique is originally from the Barbados.

Among the privileges said to be enjoyed by the aristocrats was the despicable practice of the "right of the first night." That meant that the lord of the manor could replace the groom for the bride's wedding night. In the opera, Figaro and Susanna find ways to put off Count Almaviva's advances toward Susanna and get the Count to allow them to marry. The Count is a philandering cad who has neither work nor hobbies except for trying to assaul every female within range. He does this despite being married to a beautiful woman who, though continually wronged by her husband, is true to him and, mostly, still loves him.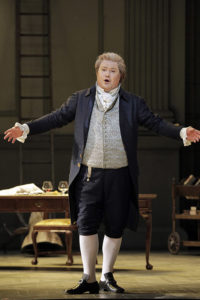 Hungarian baritone Levente Molnar sang the Count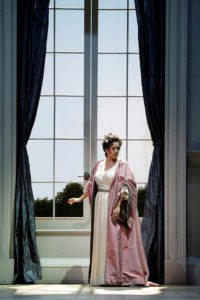 American soprano Nicole Heaston sang the Countess.
Ms De Bique completely embodied Susanna. She is saucy, smart, loving but aware of the snares she must dodge. Her voice is such a delight. This is her first Susanna; it surely is the first of many. She and Mr. Sumuel make a great pair. He is strong and adorable; she is adorable but still strong. Neither one is anyone's fool. Ms De Bique and Ms Heaston are also a good pair as  ladies who make complicated plots to fool their husbands. The plots are so complicated that they never work in the favor of the plot planners. Ms Heaston's Countess is a knowing, understanding wife but never taken in by her less than noble Count. Her lovely voice was deeply touching in her aria as she observes herself trapped in her position and yearning for the Count to realize who she is.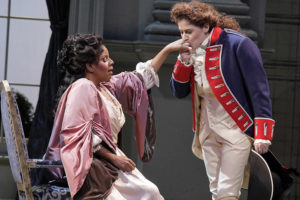 Nicole Heaston and Italian mezzo soprano Serena Malfi as Cherubino
Cherubino, a teen age Lothario around the palace, longs for the love of the Countess. Ms Malfi in this "trouser role" was superb. From the first note she sang, her liquid, velvety voice captivated everyone. The Count is fed up with Cherubino and sends him to the army which he avoids. Plots have sub-plots and the sub-plots spawn sub-sub-plots. These marvelous singers are also flawless performers with great timing and ensemble interaction. They are funny, laugh out loud funny. Take a look, and listen well, for example, at mezzo soprano Catherine Cook as Marcellina and bass  James Creswell as Doctor Bartolo. Wonderful singers who are excellent in their ridiculous roles.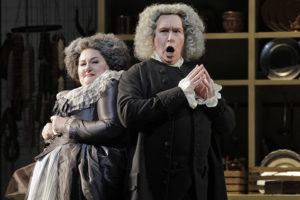 Marcellina and Doctor Bartolo turn out to have significant roles in Figaro's life, a special surprise to all three.
Each character was played with conviction. This made them even funnier. The voices were splendid throughout.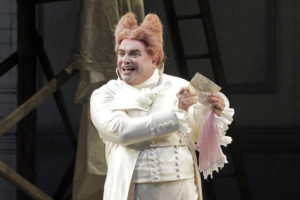 Tenor Greg Fedderly as Don Basilio.
If the glory of Mozart's music and the glorious voices of the stellar cast cannot get you to the box office, the opportunity to see an opera character with Don Basilio's coiffure should do it. Throughout the performance, the San Francisco Opera Orchestra was outstanding. Conductor Henrik Nanasi was a great favorite with the audience. Together the orchestra and maestro captured the delicacy, precision, and tunefulness of the score. The libretto by Lorenzo Da Ponte will never go out of style. It is sharp, and its humor reveals serious depths.
Tickets range from $26 to $408, Contact 415/864-3330, visit sfopera.com, or go to the Box Office at 301 Van Ness.
Photos by Cory Weaver, courtesy of the San Francisco Opera.