This post was originally published for Lawrence Ferlinghetti's 100th Birthday. We present it again to honor his passing at age 101 and 11 months. Good news: there are still posters to purchase as well as the remarkable greeting cards which were not offered 2 years ago. Buy one or more now to honor an activist artist who inspired so many. POSTER NEWS! We continue to get requests for this poster. Please note new price due to limited  supply.

Lawrence Ferlinghetti's birthday is March 24. Just a few days ago he turned 100. Celebrate this great life landmark with an exclusive poster designed by Jonathan Clark. His birthday is also March 24th! but not his 100th. Not yet. The poster is colorful with a strong image of Lawrence's painting. Buy one now for yourself and another as a gift. It was a limited edition poster of which Jonathan is offering some of what he has in his own collection.  In 1994, Jonathan –the internationally acclaimed photographer and fine art printer—was the Chair of the Visual Arts Committee for the City of Mountain View, CA. He organized and presented the first major exhibition of Lawrence Ferlinghetti's paintings. Well known as a poet and publisher, Ferlinghetti's visual art was not well known. Soon after the exhibition in the Mountain View City Hall, the exhibition moved to San Francisco to be shown in The Lively Foundation's new studio at the corner of Grove and Gough Street, just a block from the SF Ballet and the SF Opera House. It was Lawrence's 75th Birthday Party and our opening; a great day with a great crowd of art lovers and many who were devoted to Lawrence's role in the cultural life of San Francisco.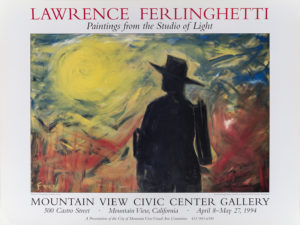 Original poster. It is 18″ x 24″
Cost for one poster is $36. If we mail it to you, postage cost is $7.84 (exact postage cost can change depending on destination). Yes, that really is the postage. This is the real deal. You will not find this anywhere else, and it is terrific. Previously not for sale, but NOW AVAILABLE: greeting card, blank inside, with portrait photo by Jonathan Clark of Lawrence standing by his painting.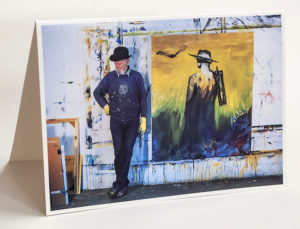 Email us at livelyfoundation.org   Let us know your name, address and how many posters or cards you would like. This is first come, first served. Mail a check made out to Jonathan Clark to Jonathan Clark, 550 Mountain View Avenue, Mountain View, CA 94041-1941. You will love having this historic poster celebrating an individual who is a significant cultural force and who has done so much for many artists. Do it today!