The story of Paul Gauguin's life (1848-1903) lends mystery and romance to the idea of an artist. He left the over developed, over civilized, expensive world of Paris to free himself and find his art in Tahiti. The exhibition at San Francisco's de Young Museum, Gauguin: A Spiritual Journey, expands the reality of Paul Gauguin as artist and spiritual seeker. It is not so much denying the romance of a man working as a stockbroker, a humdrum job, and revolting against number crunching to seek primitive beauty as it is enriching our understanding of the complicated, thoughtful greatly talented individual. The works in the exhibition come from the Ny Carlsberg Glyptotek , Copenhagen, and from works in the Fine Arts Museums of SF own collection.

Photograph of Paul Gauguin
In his early life in France's Merchant Marine and Navy, he sailed around the world and completed his military service. When he returned home, he established a close relationship with Gustave Arosa, who became his legal guardian after the death of his mother. Arosa had a an art collection distinguished by works of Delacroix, artists of the French Salon, and ceramics from world wide origins. In this environment, Gauguin's interest in art became a passion. Through Arosa, he met Camille Pissaro. The great Impressionist became Gauguin's friend and mentor. Gauguin had no formal art training. Mette Sophie Gad, a Danish woman, met him in Paris; they married in 1873 and had five children. The stock market  crash in 1882 was a fortunate fall; it opened a door for Gauguin's full time devotion to his art. Although Mette and Paul would eventrually separate when he turned to painting full time, she loyally supported his work, organized an exhibition in Copenhagen, and sold his paintings. Other painters were also important in his life as friends and companions. He and Emile Bernard met in Brittany where Gauguin made important strides in creating his own style. The Bretons with their distinctive dress and their emphatically not-Parisian life style and environment were nearly foreign and exotic.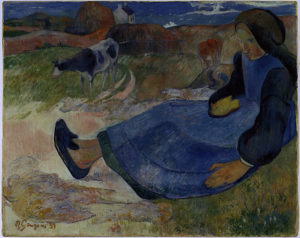 Breton Girl, 1889, is in exhibition at de Young
Gauguin and Vincent Van Gogh painted side by side in Arles, in the south of France. Each had his own vision creating art, but the few months together surely had an impact. Gauguin left Provence shortly after Van Gogh cut off his own ear. Gauguin continued searching for a pure, wild or "sauvage" home in which he could get in touch with a culture and spirituality which was not influenced by the industrialized, urban world of Copenhagen or Paris. He left Mette and his family to travel to Panama and Martinique. He made his first trip to Tahiti in 1891 under the auspices of the French Ministry of Fine Arts. What he found in Papeete was not an untouched paradise; the colonialism of the French empire had inevitably modified Tahitian existence. He moved onward to another part of the island, Mataiea. On his second trip to Tahiti, his ship was delayed in Auckland, New Zealand. He closely observed and collected Maori art.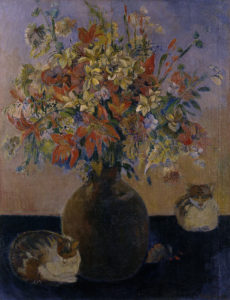 Flowers and Cats, 1899, Tahiti, in the de Young exhibtion
His story is not one of finding the original, pure society he sought; instead, it is one of continual seeking. He went to Hivo Oa in the Marquesas Islands, in 1901, and died there in 1903. Among the many glorious surprises in this brilliant exhibition are Gauguin's ceramics. These are not thrown on a wheel but hand worked in fascinating character. To see his earlier paintings which glory in nature and humanity in nature, and his drawings and paintings of Breton life which present the differences of life style, forms, and pattern established through the shapes of costume and patterns of movement is a spiritual journey for the exhibition visitor. It expands one's understanding of this artist's many journeys to come closer to the world as a whole and to immerse himself in particular ways of living which were never entirely his own. Gauguin was also a collector of art. His collections expose his profound interest in other forms of living and other forms of worship. The exhibition closes on June 23. Do not miss it.