The San Francisco Symphony, June 24, gave an altogether satisfying, inspiring concert of Jean Sibelius' Symphonies No. 6 and No. 7, with Sergei Rachmaninoff's Piano Concerto No. 3. The piano soloist Daniil Trifonov was astonishing. Soon to begin his last season as Music Director of the SFS, Michael Tilson Thomas' brilliance was obvious conducting and in creating this program.
.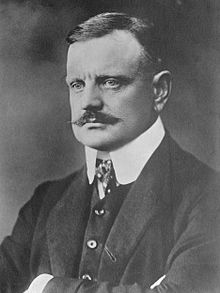 Jean Sibelius, 1913 (1865 – 1957, Finland)
Recalling the Sibelius symphonies, the word "enchanting" comes to mind. The Hedgehog hesitates at writing it as it also brings the Hallmark channel to mind, but this music came from deep enchantment, serious magic. It is the magic of a pine tree being green all winter. Sibelius was attached to the natural world of Finland. He wrote from a place in his heart which made him feel he, too, was part of Finland's nature. The music flows as though Sibelius wrote it on a single breath. In Symphony No. 6, Opus 104 (1923) its calm reigns supremely over the events of growth, expressing that natural mystery with no strain or struggle. It is sublime. Sibelius set out to write his Symphony No. 7 in C major, Opus 105 (1924) as three movements. As it turned out, they are unified into one great ribbon of music. In the Vivacissimo, set between two Adagios, it sounds like a love song. It's not a song of longing but one of wholeness. Experiencing it, it feels ethereal, but music is physical and exerts its force on all the air and objects around it. In Sibelius' Symphony No. 7, the musical force and the world affected by it are one. It charms the listener and has the great daring to be quiet. It is at rest but never still.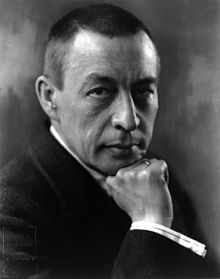 Sergei Rachmaninoff (1873, Russia-1943 California)
Rachmaninoff's Concerto No. 3 in D minor for Piano and Orchestra, Opus 30 is stupendous. It does it all: lyricism, expansive energy, darting changes of direction. It is probably not the concerto you are thinking of, but it still has that richness of song. Rachmaninoff's constant invention keeps the songs tumbling over one another like water over Yosemite Falls. It is complex and passionate. It has musical adventure like climbing a steep precipice and dancing on the edge of a sheer drop. The partnership of the soloist and the orchestra is especially notable. Think of a pas de deux in which the young Nureyev supports the elegant Fonteyn in a way that allows her to let go as together they set the stage on fire.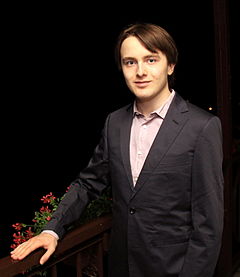 Daniil Trifonov (photo by JKruk)
The SF Symphony showed power and restraint in maintaining its partnership with soloist Daniil Trifonov. He won the 2018 Grammy award for Best Classical Instrumental Solo. His sensational performance of the demanding concerto did not seem to tire him at all though many in the audience seemed to be exhausted by traveling with him through the music. However, the audience was not too tired to applaud the SFS and Mr Trifonov until he returned to perform an encore. This SFS concert had excitement, thrills, and music of great beauty.