Vacation time returns! Vaccinated and raring to go? Pick up beautiful books from The Lively Foundation to read and enjoy while out in the sun at home or farther afield. Lively books now on offer include The Dancer's Garden and The Story of Our Butterflies, by Leslie Friedman with photos by Jonathan Clark & Leslie Friedman and OTTAWA: 1967, a collection of photographs by Jonathan Clark of the small town in Northern Illinois where he grew up.
OTTAWA: 1967 is an outstanding collection of photographs taken by Jonathan Clark, internationally renown, award winning photographer. Together these images capture the essence of lives in a time that is gone. The place is still there, but so much has changed. Published by Nazraeli Press, these images will light up your imagination and memory giving you an entry to what could be a foreign country though it is not so far away.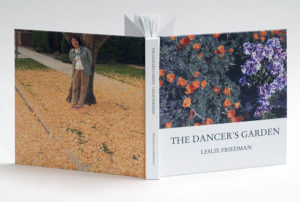 THE DANCER'S GARDEN, by Leslie Friedman with photographs by Jonathan Clark and Leslie Friedman. Comments on this book are full of praise: "I love it. It is a perfect book, in conception and execution. You are a marvelous writer, as I expected, and I am particularly fond of short essays. The scale and layout are just right…"Diana Ketcham, HOUSE & GARDEN, EDITOR (ret.), Books Editor, THE OAKLAND TRIBUNE (ret.) "There is so much delight and poetry and wisdom to be found in the garden and in your book!" S. Abe, CA Academy of Sciences (ret.)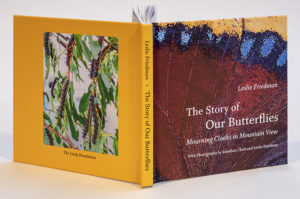 THE STORY OF OUR BUTTERFLIES: Mourning Cloaks in Mountain View, "This is a wonderful book and I look forward to sharing it with the rest of the staff here." Joe Melisi, Center for Biological Diversity, national conservation organization, Tucson, AZ; "Leslie Friedman is an historian, a dancer and choreographer, and now a perceptive writer about nature….in a second splendid work she takes wing into the world of butterflies….One is grateful for this delightful book, so well written and illustrated." Peter Stansky, Author, Historian, Professor Stanford University.
I WANT THEM! HOW DO I GET THEM?
OTTAWA: 1967 is available from The Lively Foundation. These books are from the artist's own collection. Cost: $50 plus $6 for mailing. Please mail your check made out to The Lively Foundation to The Lively Foundation, 550 Mountain View Avenue, Mountain View, CA 94041-1941. If you need to use a credit card, please see instructions for PayPal below.
THE DANCER'S GARDEN is available from Bird & Beckett Books & Records, San Francisco, and from The Lively Foundation. Stanford Bookstore currently sold out of it. You can contact the Stanford Bookstore and request it. Cost is $42; $45 which includes mailing.
THE STORY OF OUR BUTTERFLIES: MOURNING CLOAKS IN MOUNTAIN VIEW is available from Bird & Beckett Books & Records, The Lively Foundation, and Stanford Bookstore. Cost is $29.95 plus $5 for mailing.
Bird & Beckett Books & Records, 415/586-3733; 653 Chenery St., SF 94131; eric@birdbeckett.com; Hours: Tues-Sun Noon-6 p.m.
Stanford Bookstore, 650/329-1217; Lasuen Mall/White Plaza, Stanford Univ. CA 94305; stanford@bkstr.com; Hours: Mon-Thurs 11 a.m.-7 p.m.; Fri & Sat 10 a.m.- 7 p.m; Sun 11 a.m.- 6 a.m.
The Lively Foundation, livelyfoundation@sbcglobal.net, 650/969-4110, 550 Mountain View Ave, Mountain View, CA 94041- to buy with a ccard from Lively, please go to the landing page of this blog, scroll down to see the PayPal logo, click on that to pay with ccard. Please add $1.15 to credit card purchases. Thank you!