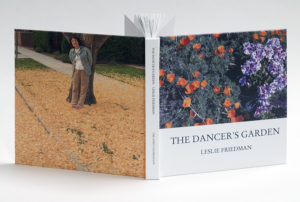 Thank you all for your queries about buying The Dancer's Garden. Your interest is profoundly appreciated. Here is how to buy it:
Choose which edition you prefer. Both have the complete text and more than 60 full color photos by the author, Leslie Friedman, plus 10 by renowned photographer, Jonathan Clark, and one by English, actor Dennis Parks. Both are printed on fine, glossy paper. Both are hard back books.
Version A:  Costs $45. That price includes tax and mailing cost.
Version B: Costs $75. It is printed on extra heavy paper. It comes with a photographic print by Jonathan Clark. It is signed and suitable for framing. It also can fit into the book. The price  includes tax and mailing cost.
Please mail a check made out to The Lively Foundation to The Lively Foundation/550 Mountain View Avenue/Mountain View, CA 94041-1941  OR  go to the landing page of this blog. You will see the PayPal button. You can  purchase through PayPal. Please add $2.00 to the cost of each book: Version A: $47  —  Version B: $77
We will send you The Dancer's Garden right away. Thank you again!