The San Francisco Symphony presented an amazing evening of music, October 13, 2022. Esa Pekka Salonen, Music Director, still seems new since the pandemic separated him from his audience. Now that he and the SFS are back performing full seasons, the excitement of his leadership and creativity is nearly tangible in Davies Symphony Hall. The program on the 13th was the premiere of Piano Concerto #3 (2022), by Magnus Lindberg performed with the stunning piano soloist, Yuja Wang. The concert opened with Helios Overture, Opus 17 (1903), blissful music by Carl Nielsen. Bela Bartok's Concerto for Orchestra (1943, rev. 1945) was the beautiful and mysterious closing event.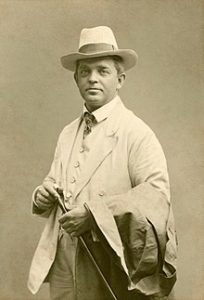 Composer Carl Nielsen
Helios Overture swept the audience away. It is a self-contained, 13 minute, inspired beauty. The SFS performed with conviction and the musicians' invisible but superb technical prowess. Conductor Esa-Pekka Salonen seemed to breathe in concert with the music by the brilliant Danish composer, Carl Nielsen. We arrived in our seats with only moments to spare. This meant that I did not open the program book and learn that there is a subject to the Overture and that it was the sun. At first, I thought it was the ocean. Nielsen had debated the use of programmatic themes in music. Should there be a suggested story or image? He preferred not. And yet, on a trip to Athens with his wife, the heat and sun enveloped his musical imagination. His note on it in a letter to another Danish composer, Thomas Laub, explains his careful steps to program-light. Pun not intended, but it will stay. "My overture describes the movement of the sun through the heavens from morning to evening, but it is only called Helios and no explanation is necessary. What do you think?" What the audience and this writer thought was "Why do I not already know this music?"  Listening, one feels in touch with the universe, caught up in the power and peace of light. Thinking back to Thursday, I think I heard the audience catch its breath and sigh.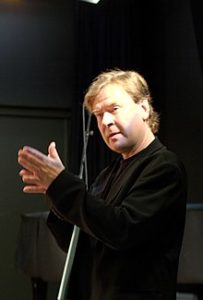 Composer Magnus Lindberg
Magnus Lindberg and Esa-Pekka Salonen are both Finnish, were born only 3 days apart, and were close friends while studying composition in the Sibelius Academy, Helsinki. Mr. Lindberg established a reputation for fine compositions of great complexity. He explores extreme rhythms played on top of one another. In order to make his music continue to raise the bar for  intensely complex sound and timing, he invented computer programs to go beyond what humans perceive on their own. In some ways, the Piano Concerto #3 approaches classical ways, but they are Lindberg's translation of classical.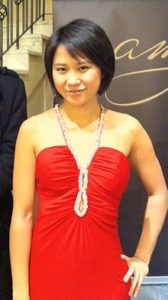 Yuja Wang, Concert Pianist
There is no doubt that his decision to write the Concerto for Yuja Wang to perform was important to the identity of the music. Ms Wang plays the piano with strength. In her performance, it was clear that she was catching all of the directions of the changing and over lapping rhythms. It seemed as though she kept a beat in her head and others in her fast fingers and even in her feet which were dressed in high heel shoes with pom poms on the toes. Yuja Wang presents herself as a devil may care fashionista beauty. She can do that because she is the absolute Ace of pianists. I cannot imagine this Concerto without her. In their onstage conversation after the end of all of the performance, Mr. Lindberg and Ms. Wang offered more descriptions to the audience. They had made edits in the score during their rehearsals. The Piano Concerto #3 could actually be three concerti as each of the three movements are distinct in their sound and structure. It was fascinating, thrilling music performed with the height of musical intelligence. Mr. Lindberg says that the orchestra is his favorite instrument. He certainly uses all of it in every way through unknown dimensions. We need to hear it again!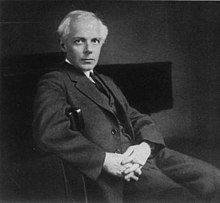 Composer Bela Bartok, 1927
Bela Bartok's Concerto for Orchestra has a dramatic "back story." Bartok was in his native Hungary. The fascist governments in Europe had taken over. He wanted to leave but remained to take care of his mother. When she passed away, 1939, he and his family left for America as soon as possible. He arrived in 1940.  In America he was broke, and his health began to go downhill. He had leukemia. His condition and his poverty meant he had to stay in a hospital. Two of his Hungarian friends, Joseph Szigeti, violinist, and Fritz Reiner, conductor, were also in the US. They urged Serge Koussevitzky, Boston Symphony conductor, to help Bartok, and he did. He offered $1000 as a commission for a new work. Bartok would not accept it as charity, but Koussevitzky was smart. He told Bartok that he had to give him $500 before the piece was written and the other half when a new piece was completed. It worked to put Bartok, now terribly weak, back to work. A concerto for an orchestra may seem a contradiction in terms as the usual concerto singles out one instrument playing solos intermittently, with or against the full orchestra. Bartok structured this work so that many instruments of the orchestra would be featured, often  in "couples." He employed the sounds and individuality of the bassoons, oboes, flutes, trumpets, clarinets to create the architecture of the music. As one would expect, the final composition is completely his own. Bartok apparently was not a fan of Shostakovich, but the Russian composer was much in favor in the US, in part because of the alliance between Russia and the US. In the fourth movement, Interrupted Intermezzo: Allegretto, what Bartok called "brutal band music which is derided, ridiculed by the orchestra. After the band has gone away, the melody resumes its waltz–only a little bit more sadly than before." This piece became an enormous success, loved by audiences and musicians. It has five movements and his "night music" appears especially in Elegy, the third movement. This Concerto has a sense of mystery running through it, beautiful music but with a touch of off center, ill at ease uncertainty. The journey through all the movements ends with an uplifting, positive feeling of celebration. The audience at the premiere cheered him. According to Bartok, Koussevitzky said it was "'the best orchestra piece of the last 25 years.'" The music is pure magic.