Fantastic news! Workshops for IDF@SV announced: Save the Dates! Elisabeth Kindler-Abali, Visiting Artist from Berlin, Germany, will teach Contemporary Technique & Repertory for interm – adv/professional dancers, 11 a.m. – 1 p.m., June 26, 27, & 30, in addition to a 60 minute, mixed level class during the Full Day of Dance©, June 24. Don't miss the opportunity to work with her; she will return to Berlin shortly after premiering her new work in the Festival Concert, July 1.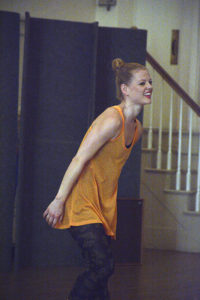 Elisabeth Kindler-Abali bows after performing US premier of her work BUTTERFLY at IDF@SV Festival Concert, 2016.
Megan Ivey, professional clown trained by world famous Ringling Bros., offers her PHYSICAL COMEDY workshop for adults and young people 10 years old and over, 2:00 – 4:00 p.m., Sunday, June 25. This is more fun than you can imagine, and you will learn skills that enrich your life: Learn how to walk into walls! Fall down funny! Slap and be slapped! (Come with a pal, child, complete stranger; second person in for half price.) No joke. This class is essential for ALL performers Shakespeareans, method actors, serious contemporary dancers, tappers. Laugh and the world laughs with you; cry and you cry alone. Get comfortable onstage & in your body.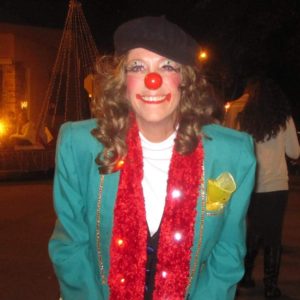 Megan Ivey
CHOREO-CUBATOR© is your opportunity to work in improvisation and to develop new choreography or polish a work in progress. It offers space & time & supportive atmosphere. Choreo-Cubator© meets June 20, 22, 23, 27, 29, 30 from 6:00 – 7:30 p.m. Participants perform their work for the public in the Showcase Performance, Friday, June 30. Performance not required. ALL types of dance are welcome.