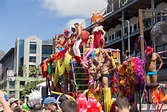 This is it, the weekend of the perfect storm of San Francisco Bay Area events. It is a harmonic convergence of absolutely everything. The 45th Annual Pride Parade will be the biggest ever, well over 100, 000 people will crowd into the narrow streets of San Francisco to party and parade. The arts of music, personal adornment, and social action will be represented. The party at the end of the parade, around 5 p.m., occupies Civic Center.

Both the San Francisco Giants and the Oakland A's  are playing home games. The Giants' game is at 4:05 p.m. The Pride Parade will have moved past the stadium by then.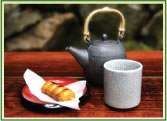 In Golden Gate Park: The Turner exhibition is up at the de Young Museum, Alice Radio's Summerthing brings live music and food trucks from 12-4, the Dunsmuir dance company offers Scottish music and dance from 1 -2:45 (free), and all the usual attractions from the Japanese Tea Garden to the Bison are there for you.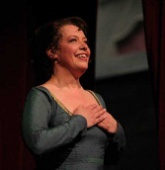 The San Francisco Symphony's Beethoven Festival offers its final performance of Beethoven's opera Fidelio with an all-star cast including Nina Stemme in the title role and Alan Held. It will be an inspiring performance. With liberty and fidelity as its noble themes, this opera is more than worth whatever transportation challenges you think you might face. It begins at 7:30 p.m. You will have the treat of mingling with the revelers near by. Celebrate Liberty and Fidelity!  Pictured here: Opera star Nina Stemme.