Anne-Sophie Mutter performed a recital of Beethoven Sonatas, January 26, and a chamber music concert of Beethoven Trios and a Quartet, January 27, at San Francisco's Davies Symphony Hall. Two days of great music performed by great artists: proof that heaven can be here on earth.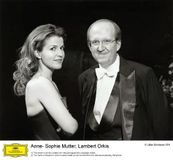 Anne-Sophie Mutter, violinist, Lambert Okris, pianist
Ms Mutter was the main reason that Davies Hall was filled with avid fans. Those who did not know the pianist playing with her were in for an amazing treat. Mr. Okris is a superb, eye opening musician. He has performed with Ms Mutter for thirty years. He has also toured with Mstislav Rostropovich for more than eleven years. He performs as a guest artist with symphonies and specializes in both period instruments and contemporary works. The partnership of Ms Mutter and Mr. Okris lifts the character of their performance into the sublime. One could revert to out of date, show biz phrases and say there is no second banana here.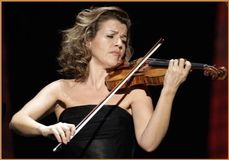 Anne-Sophie Mutter
The first of their three sonatas was Sonata for Piano and Violin No. 4 in A minor, Opus 23 (1801). It is a tightly focused, brilliant piece. The piano and violin have an interesting conversation, but each instrument has a mind of its own. The program note by James M. Keller refers to it as "repartee." It is the kind of repartee one might expect from Katherine Hepburn and Spencer Tracy: not when they are cooing, but when they are lawyers on different sides of a case. Sharp and bright, the rhythms are surprising, always something unexpected. There was something new around each corner, and it had more corners than easy curves. Intricate and challenging, it was a complete delight.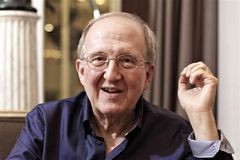 Lambert Okris
Sonata for Piano and Violin No. 5 in F major, Opus 24, "Spring," (1801) was fresh, bigger, very different from Opus 23. Beethoven seems to give himself more room to develop the innovative presentation of this sonata. The violin and piano are equals but it is the violin that takes the lead. While Beethoven did not give this sonata its nickname, "Spring," it is fitting. The music suggests the weather is just right for an amble through the arboretum. We are pleased by the new leaves and early blooms which open us to nature as they open themselves to life. We do not hurry even though we want to see it all. The Scherzo shows the piano and violin meeting, deciding to dance together but not quite together until they whirl around in the middle of the movement. Closing with a Rondo, this sonata is all warmth and smiles, and was played above the artistic heights.
The Kreutzer sonata, Sonata for Piano and Violin in A major, Opus 47 (1802-03) is twice so long as either Opus 23 or Opus 24. It is symphonic in its breadth and power. The two instruments were able to reach the effects one might imagine only coming from a full orchestra. Beethoven makes the music run full tilt and stop suddenly. He plays with breath and rhythm, always challenging what the human heart and mind can do. Imagine a great ballet dancer leaping, spinning in air, and, in mid-spin, suddenly stopped. Body and mind are suspended. Just as suddenly as the pause began, an apparently reckless, headlong race begins again.
It was a privilege to be in the audience for this performance. This writer had known about Anne-Sophie Mutter, and this was our first time to hear her live. She is an extraordinary artist, full of power and grace. Beethoven & Anne-Sophie Mutter, Part II, appears in the next post.
Ms Mutter and Mr. Orkris satisfied the applauding, bravo-ing crowd with an encore. It was a selection by John Williams from the movie, Cinderella Liberty. Her latest recording is Across the Stars with adaptations of his movie scores made for her by Williams.
P.S. A fashion note: Through her career, Ms Mutter has been known for her beauty and her trademark strapless gowns. Her appearance in this recital did not disappoint. She wore a gown which could be every woman's dream. Strapless, it had a full skirt which puffed away from her body. The skirt alternated matte black panels with panels which seemed to be laid over that matte silk. These were darker black, maybe velvet, maybe lace, with charming designs, maybe appliques, going up and down. A black ribbon around her waist was tied in a bow in the back. Her strapless bodice repeated the black and lace theme and appeared to be a layer over the base of the bodice. It had what I remember as a black lace ruffle at the top. I remember very long ago reading a review of a pianist. The writer criticized her for what she wore. I thought then and still think now that was a terrible thing to do. I believe commenting on a musician's appearance is a dreadful faux pas. However, Ms Mutter and that dress defy the rule.