This is the exhibition you must not miss. It will open your eyes and pull on your heart. Here is art that so many of us do not know about by artists whose names one may not yet know. REVELATIONS: Art from the African-American South at the De Young Museum, in San Francisco's Golden Gate Park, shows sixty-two works by African American artists of the Southern US. These pieces are now in the permanent collection of San Francisco's Fine Arts Museums. Let's all say, Hurrah!  The work represents artists of several generations. It reflects history and emotions of the African diaspora from the centuries of capture and transportation from homelands, slavery, brutal segregation and racism, to civil rights struggles and current battles for equality and freedom of expression. Strains of African traditions are intertwined with other aspects of American culture in the art.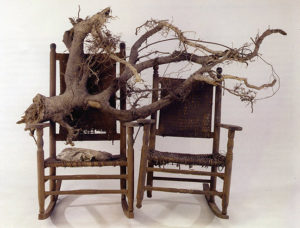 Lonnie Holley (b.1950), Him and Her Hold the Root, 1994. Fine Arts Museums San Francisco
As most of the artists did not have formal art education, they taught themselves through individually developed processes. They use found materials, both natural and man made. in assemblages  as often as they might use traditional paint and brushes. Lonnie Holley's work above uses rocking chairs; a smaller, "female" one leans on the taller "male" one. They support a root which must have been picked especially for its expressive shape. The root can reflect both the historical family roots of the rocking chair couple and the potential future created by the couple. Lonnie Holley said, "My thing as an artist, I am not doing anything but still ringing that Liberty Bell, ding, ding, ding, on the shorelines of independence. Isn't that beautiful? Can you hear the bell I'm ringing? And will you come running?"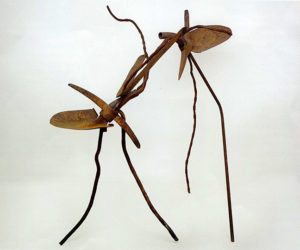 Joe Minter(b.1943), Camel at the Water Hole, 1995, Fine Arts Museums, San Francisco
Joe Minter's work was displayed in his yard in Birmingham, AL. He called it the "African Village in America." It was the best known of the yard displays which were often the only exhibition of work by these artists. His sculpture above is made of pick-axes and shovels which refer to the hard labor of the African-Americans exploited during Jim Crow days and slavery. Minter has said, "The way you make an African a slave, you make him invisible. I'm making the African visible."
Born in Emelle, AL, 1928, Thornton Dial is one of the better known, more widely exhibited artists in this group. He said, "My art is the evidence of my freedom."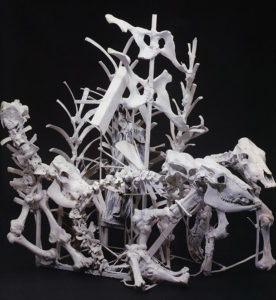 Thornton Dial (1928-2016), Lost Cows, 2000-2001, Fine Arts Museums of San Francisco
His surprising sculpture above is constructed of cow skeletons, golf bag, golf balls, mirrors, enamel, Splash Zone compound. He said, "When I start making something I gather up the pieces I want to work with. I only want materials that have did people some good but once they got the service out of them they throwed them away. So I pick it up and make something new out of it. That's why we pick up these things. Negroes done learned how to pick up old things and make them brand-new. They had to learn them things to survive, and they done got wiser for doing, wiser by looking at the things and taking them into the mind. You call that 'smart.'" The cow bones are painted white; the pelvic bones are placed to remind one of Ku Klux Klan masks and bring doubts about white supremacy when the "white" humans are so dependent on darker individuals to do their daily work from cooks to nannies to caddies.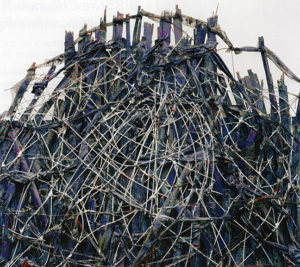 Thornton Dial (1928-2016), New Light, 2004, Fine Arts Museums San Francisco
Thornton Dial's New Light is powerful and mysterious. His materials are wood, wire, twine, caning, cloth, wire screen, cow bone, enamel, Splash Zone compound on wood. The statement is overwhelming, an example of why art often is not well represented through verbal description; why those who know say "if he wanted to write an essay, he would have written an essay, " instead of painting a picture, composing a sonata, or creating this assemblage. Mr. Dial, who passed away, 2016, however, is an eloquent spokesman for himself and his art. "Art is like a bright star up ahead in the darkness of the world. It can lead peoples through the darkness and help them from being afraid of the darkness. Art is a guide for every person who is looking for something. That's how I can describe myself. Mr. Dial is a man looking for something."
This magisterial acquisition includes paintings, sculptures, drawings and quilts by twenty-two artists. Eight of the artists were included in the 2006 exhibition of The Quilts of Gee's Bend. Some of the works are clearly representative and some more devoted to pure design, like the quilts; there are revelations throughout. Often pigeon-holed as "outsider" art or "folk" art what you see here is art. The exhibition opened June 3, 2017, and will close April 1, 2018. Do you really need a reason to come to San Francisco? Put this show at the top of the list.
Artists' quotes from the magazine, Fine Arts, published by the Fine Arts Museums San Francisco. Photographs courtesy Fine Arts Museums San Francisco. For a fascinating profile of the man who amassed the collection of art by African Americans in the South,  see https://www.washingtonpost.com/graphics/lifestyle/bill-arnett-african-american-art-collection/