IT'S TIME! Early Bird deadline is May 20. If you register on or before May 20, you will save from 10%-20% on class fees. HERE'S HOW TO REGISTER WHETHER YOU ARE ABLE TO BE AN EARLY BIRD or REGISTER LATER. Send a check made out to The Lively Foundation to The Lively Foundation, 550 Mountain View Avenue, Mountain View, CA 94041-1941 Attention: Leslie Friedman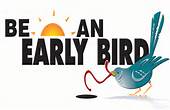 Enclose a note listing the classes/workshops/performances for which you are paying. Include your name, street address, email address, best phone number. If you have questions for which you have not found answers in the posts on this blog, contact Lively at livelyfoundation@sbcglobal.net     All events take place at the Mountain View Masonic Center, 890 Church Street, Mountain View, CA 94041. Concert tickets and entrance to workshops/classes will be available at the door as available.
Schedule and prices for all the IDF@SV 2017 classes & events:
CHOREO-CUBATOR@ meets 6:00-7:30 p.m. June 20, 22, 23, 27, 29, 30. Showcase Performance for works created by participants is June 30, 6:30 p.m. Fee: $90 Early Bird; $108 after 5/20
FULL DAY OF DANCE© June 24. Classes run from 10 a.m. to 5 p.m. Doors open at 9:30. Class schedule: 10 a.m. Tap (Audreyanne Delgado-Covarrubias), 11:15 a.m. Contemporary (Elisabeth Kindler-Abali); 12:30 p.m. Pilates mat (Amity Johnson); 2:45-3:45 Electric Line Dances (Etta Walton); 4:00-5:00 p.m. Mexican Folklorico (Arturo Magaña) Price per class reduces with each added class. EARLY BIRD: Single class$20, 2 classes $36, 3 classes $48, 4 classes $56, 5 classes $60. REGULAR PRICE: Single $25, 2 classes $40, 3 classes $54, 4 classes $64, 5 classes $70.
Arturo Magaña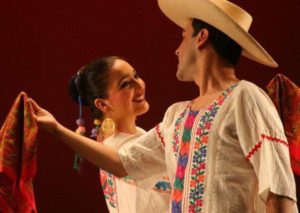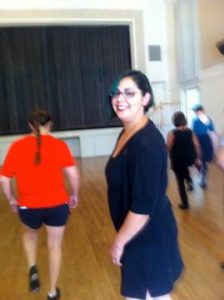 Audreyanne Delgado-Covarrubias
FREE COFFEE TASTING EVENT June 24, 1:30-2:30 p.m. Thanks to Don Francisco's Coffee which is providing its fine coffee for this special event. Great time to meet other dancers, relax, and enjoy great coffee.

PHYSICAL COMEDY WORKSHOP meets 2:00-4:00 p.m. June 25. Workshop is led by Ringling Bros. trained professional clown, Megan Ivey. Fall down! Walk into walls! Have a great time. Fee: $30, bring a pal, Boy Scout, complete stranger and the second person pays $15. Great discount for you both.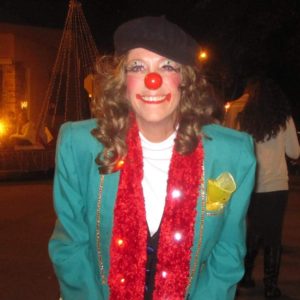 Megan Ivey
CONTEMPORARY DANCE, Technique & Repertory taught by Elisabeth Kindler-Abali, visiting artist from Berlin, Germany, will teach her dynamic technique and excerpts from her choreography. Classes meet 11 a.m. – 1 p.m. June 26, 27, & 30. Don't miss the opportunity to work with this international artist. She returns to Berlin soon after the Festival Concert. Fees: $75 Early Bird/$85 after May 20.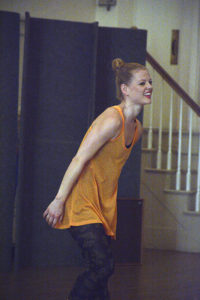 Elisabeth Kindler-Abali
PERFORMANCES:  Showcase Performance, 6:30 p.m., June 30, tix: $10  This performance features ALL new work, improvisations, experiments. Includes select performances from winners of the Choreography Competition.
FESTIVAL CONCERT, 3 p.m. July 1, tix general admission $20; srs. over 65 and children 10 and younger $12. Sponsor tickets $30 gives you reserved best seats and tax deductible donation. Program will include PREMIERE performances by Audreyanne Covarrubias, Elisabeth Kindler-Abali, Megan Ivey, Arturo Magaña & Ensamble Folclorico Colibri, Etta Walton leading her amazing Line Dances, plus a performance of the winner of the Choreography Competition.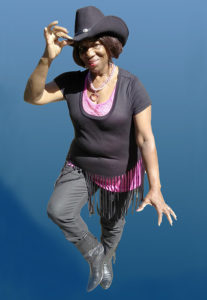 Etta Walton
For more details, watch this livelyblog and facebook/the lively foundation    or facebook/international dance festival silicon valley