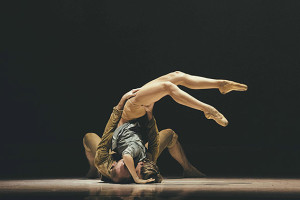 What luck to be in Houston while Dance Salad Festival is in progress! Yes, Houston, Texas; you thought it was all about the Bar-B-Que, but it is now about the Salad. The Hedgehogs attended the concert March 25, at the Cullen Theater of Houston's Wortham Theater Center. Seven dance companies from five different countries presented work in the Festival, including three US premieres and three Houston premieres. While each dance was different from the others, they had one great element in common: fantastic dancers. Strong, supple, able to leap tall buildings in a single bound, these are dancers who are rightfully described as fearless. Trained in classical ballet and a variety of modern techniques, they provided their choreographers endless possibilities for movement. The program was so captivating that we returned on March 26; there will be a Part II of this Post. Founder, producer, and director Nancy Henderek appears to have discovered elements to keep her audience involved, surprised, and even entertained by dance that is serious and occasionally amusing.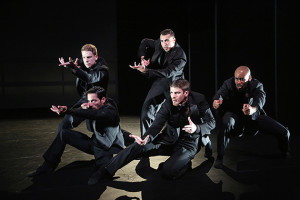 Nicolo Fonte, choreographer of Beasts for BalletX, of Philadelphia, is a native New Yorker, studied at the Joffrey, San Francisco, and New York City Ballet Schools, received his BFA in Dance at SUNY, Purchase, and danced with Les Grands Ballets Canadiens, Montreal, and Compania Nacional de Danza, Madrid, until devoting himself to choreography. The two parts of his work, Beasts, shown March 25 were thought provoking. Men's Section begins with movements much like those of Kurt Joos's great, Expressionist ballet, The Green Table, brought back to life by the Joffrey Ballet. Men dressed in black dress suits alternate between polite and threatening gestures. However reminiscent of Joos it may be, the dance proceeds in its own way. The dancers' interactions include specific movements suggesting shooting rifles and four of them lining up while the fifth aims his hand like a gun to execute one. Fonte's ensemble movements are eye opening. The men are powerful, graceful, dynamic, and, in this dance,  doomed. The choreographer builds the tension with the unfolding of individuals out of a group and recovering into another group. It is an anxiety provoking dance resolving into sadness.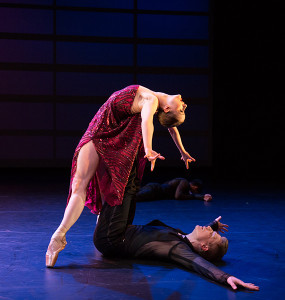 Men's Section was followed by Mata Hari section. Women are introduced into the dance; it's all trouble from the time they enter. One Hedgehog commented that apparently females are scarier than rifles. Costumed in elegant, floor length gowns and pointe shoes, the dance seems to call out "Danger!" Mata Hari is depicted by Chloe Felesina; her prime victim is Daniel Mayo. Mata Hari in this dance embodies attraction too enticing to turn away from although betrayal is assured. Pictures: Men's Section Photo: Bill Hebert, Mata Hari Section; Photo: Alexander Iziliaev.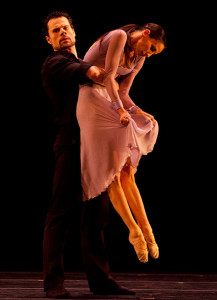 Choreographer Luis Martin Oya's Por Ti was danced by two stellar dancers: Sonia Rodriguez, a native of Toronto, and Piotr Stanczyk, originally from Poland. This is an exquisite pas de deux. Ms Rodriguez's meltingly, achingly expressive movement shows the depths of emotion which classical ballet can reach. Mr. Stanczyk was noble, full of longing, commanding and commanded by his passions. Choreographer Oya performed the works of leading choreographers such as Ohad Naharin and Mats Ek while dancing in the National Ballet Company of Spain, directed by Nacho Duato. Mr. Stanczyk and Ms Rodriguez are greatly honored dancers with the National Ballet of Canada. Photo: Amitava Sarkar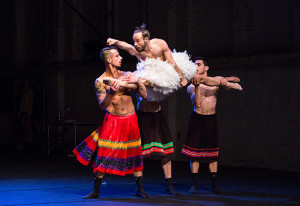 Marguerite Donlon's Made in Love: Minutemade, performed by the Ballet of Staatstheater am Gartnerplaz is an entertaining romp through groups, duets, solos, occasional speaking by dancers, and many movement techniques. The style in which the dancers move absolutely every body part that could spasmodically move predominates. The work opens with a woman wearing a kilt and a partner in a colorful folky skirt challenging each other. The partner seems to motivate the woman's movements by gestures. There are twisting, complicated lifts. The partner dominates, and drops the woman in the kilt. Four men in skirts enter with Irish music accompanying them. They engage in silly versions of folk dance hops. A woman in a black, spangly, open jacket over black bra and dance shorts enters doing barefoot Irish step dancing crossed with ballet. Another couple occupies the floor for its dances. A woman enters and narrates some of her experiences. She recalls being naked on stage twice, maybe three times, but after all, she was in Europe. At some point, the Partner in the opening dance takes his blouse off to reveal he is he and not she. Gender bending costuming is not new but is always eye catching, especially now that the "man bun" is in style. More groups enter and exit, piling on activity that's hard to keep up with but fascinating. A man in white tunic, white, fitted trousers  and a huge white tulle ruff–could it be an actual tutu?–around his neck enters and intones Shakespeare: "Love is merely a madness." This viewer especially enjoyed the sections in which two dancers communicated with each other through dance gestures and one in which the whole cast of twelve kneeled onstage in a line and danced out a rhythm using hands and arms pounding the stage floor and imitating with their hands what feet and legs would do if they were standing to dance. In the end, only the clown in white is left. He is upstage center. Watching for a clue from him as to what it all means proves futile; he does not know either. Photo: Marie-Laure Briane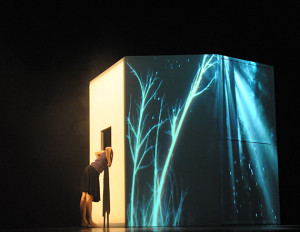 Spellbound Contemporary Ballet of Rome, Italy, performed L'Autunno/Autumn a movement from Le Quattro Stagioni/The Four Seasons choreographed by Mauro Astolfi. His works have been set on many companies in Europe, the US and Canada. In The Four Seasons, he uses the classic Vivaldi score and music by contemporary composer Luca Salvadori. The dancers entered and exited from a large box on stage which had a window for them to move through. Images of falling leaves and bare tree shapes were projected on the walls of the cube which might be a house providing safety or a constant in the midst of change. It was a lovely use of media which can become clunky and distracting even though it has a siren's call of timeliness to choreographers and stage designers. When they were not interacting with the cube, the dancers' movements did not obviously reflect an autumn theme, but their use of space was always in the realm of the cube. Photo: Marco Bravi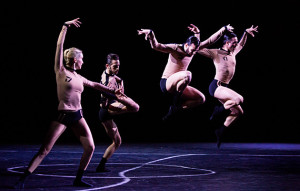 Ballet of Staatstheater am Gartnerplatz returned with Versus Standard choreographed by Jacopo Godani. A sextet that never hits "pause," it is a high energy, all jumping, all falling, all confronting and all competing work. It claims the choreographic territory that wants movement layered on movement continuously, and these amazing dancers are exactly the ones to show that they can do it. This Hedgehog was initially misled by seeing their yellow tee shirts with black trim and being reminded of Captain Kirk's uniform in Star Trek. This was totally wrong. The dancers do it all; their movement does not need a theme. Seeing it again on March 26 was an opportunity to read the program note, absorb the notion of team sport, especially soccer, as an inspiration, but in truth it seemed to be all about the movement itself. Photo: Marie-Laure Briane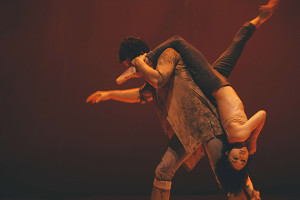 Fall, choreographed by Sidi Larbi Cherkaoui for the Royal Ballet of Flanders, of Antwerp, Belgium, is a lush dance for nine gorgeous dancers. To watch the falls, lifts, rolling, sweeping, levitating movements takes one's breath in the way that giving in to being a human buoy in waves could do. The lifts are complex and sometimes look dangerous, yet the dancers keep breathing, soaring and releasing back into their partners or the floor. The music is drawn from three pieces by Arvo Part: Fratres, Spiegel im Spiegel, and Orient & Occident. Fall opens with a single dancer. He lifts himself and falls, walks on his barefoot toes, falls and lifts more until he is met by a group of falling, rolling men. As the dance grows by each circle of movement leading into another, there is a change in its feeling with two powerful duets. The first is distinguished especially by extraordinary lifts. The female dancer almost turns herself inside out; it becomes hard to find "front." The second matches a strong male and female dancer in movements of balance and support. The female dancer ends alone on stage facing away from the audience standing in fifth position, legs crossed from the hips down to feet that overlap and cross. It is a moment of stasis, a peaceful suspension in place. Photo: Filip Van Roe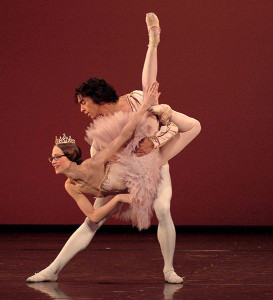 When a ballerina comes down the aisle dressed in classical tutu gear, wearing glasses and carrying a handbag, the audience knows that Le Grand Pas de Deux will be something completely different. Choreographed by Christian Spuck and performed by Alicia Amatriain and Jason Reilly, it is set to the comical music of the Overture from The Thieving Magpie by Rossini. Ms Amatrian is originally from Spain; Mr. Reilly is Canadian; both are greatly acclaimed dancers with Germany's Stuttgart Ballet. They performed the spoof of a classical pas de deux with finesse, avoiding too much heavy slap stick, even when Ms Amatriain goes skidding across the floor on her stomach or tries to do her turns and balances with the handbag briefly in her mouth. Choreographer Spuck allows them to show they can do the real thing: she whips around in multiple fouettes; he turns with one leg in second position, lifted straight out from his hip and held there as he turns repeatedly. They added a touch of glamour and welcome humor to a night exploring the possibilities of dance. At top photo:Fall: Filip Van Roe Watch the Livelyblog for Dance Salad, Part II. It will include Yidam, by Ihsan Rustem, NW Dance Project; Black Swan Section, by Nicolo Fonte, BalletX; Faun, by Sidi Larbi Cherkaoui, Royal Ballet of Flanders; L'verno/Winter, by Mauro Astolfi, Spellbound Contemporary Ballet. AND, AESTHETIC OBSERVATIONS: What's Happening in Dance?