INTERNATIONAL DANCE FESTIVAL@SILICON VALLEY invites choreographers to submit a work in ANY dance form. Dances should be no more than 8 minutes long. Choreographers must be adults ( 18 years & up & up). Deadline for submissions is May 20. $25 entrance fee.
BE SURE TO SEND US AN EMAIL OR CALL TO LET US KNOW YOU ARE SENDING AN ENTRY. THIS IS SO THAT IF WE RECEIVE, FOR EXAMPLE, A YOUTUBE FROM YOU WE WILL KNOW IT IS AN ENTRY FROM YOU AND NOT SPAM. livelyfoundation@sbcglobal.com OR 650-969-4110
With your submission please include information about yourself: name, street address, email address, phone number, how long have you presented your work in public? what style do you work in? Name of dance, music (if any) for dance. Number of dancers. Ages of dancers (preference will be given to adults, 18 years old & up. Younger dancers will NOT be eliminated). Has this dance been presented in public performance before? Do you intend to perform it in the Bay Area on dates close to IDF@SV (preference for dances which will not be seen on other concert dates near dates of the Festival a preference, NOT an automatic out.
AWARDS: 1st prize winner will perform on the Festival Concert program with acclaimed artists, July 1, 3 p.m. 2nd & 3rd prize winners will perform in Showcase Performance, June 30, 6 p.m. These performances are in Mountain View and both are open to the public. 1st, 2nd, & 3rd place winners are offered free time & space to rehearse and will receive cash honoraria.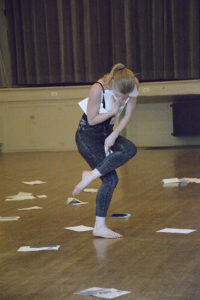 ELISABETH KINDLER-ABALI, visiting artist from Berlin, premieres "Letters Like Feathers," by Leslie Friedman, IDF@SV Festival Concert, 2016
Please send your DVD or youtube to The Lively Foundation/550 Mountain View Avenue/Mountain View, CA 94041-1941   OR   email to livelyfoundation@sbcglobal.net    Submit the dance you intend to perform.
Entrance fee check made to The Lively Foundation and mailed to The Lively Foundation/550 Mountain View Avenue/Mountain View, CA 94041-1941 PLEASE email us to let us know that you are sending your dance through email or US mail so that we will not think your video is a spam. THANKS!
???Questions???please email The Lively Foundation.