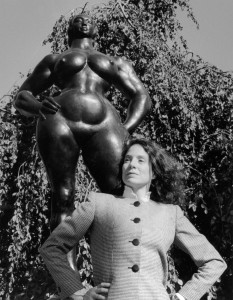 Beginning in 1996, The Lively Foundation presented annual concerts honoring Women's History Month. Through many years, Lively's concerts, HEROIC, BELOVED, were the only concerts honoring Women's History Month. Artistic Director, Leslie Friedman, noticed that she had choreographed dances about women, about specific, historical figures, and dances set to texts written by women and music composed by women. That work became the first repertory of dances and music. Each year new works would be added often featuring guest artists. Subjects of the dances included Harriet Tubman, with a text by her and a song created about her by Higher Ground, a singing group from Oakland,; the Bronte sisters, using texts from Charlotte Bronte and music by Chopin; Clara Schumann, composer and pianist, with music by her life long friend, Johannes Brahms; Willa Cather, American author, using text from her book, My, Antonia, and premiering music by Jon Deak, music by African-American composer, Undine Smith Moore.

Opera singer Pamela Dillard was one of our first guest artists. She performed classical music songs and others One of her songs was Come Down, Angels, music by Undine Smith Moore. Ms Friedman accompanied Come Down, Angels with a premiere dance.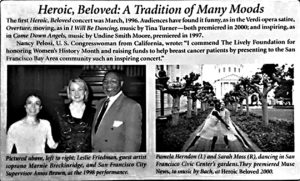 Pictures from two Heroic, Beloved performances: L-R:Leslie Friedman, Opera singer Marnie Breckinridge, SF Supervisor Reverend Amos Brown; on right side: Pamela Herndon (L) and Sarah Moss (R) dance in the SF Civic Center Garden before their premiere performance of Muse News, music by Bach; choreograhpy by Leslie Friedman.