The virtuoso pianist and composer, Ferruccio Busoni (1866-1924), created the mysterious Piano Concerto in C major, Opus 39 (1904). It is an enormous work. It runs for 75 minutes. It is fabulously difficult for the piano soloist, but it is right up Igor Levit's alley. Levit expressed his affinity for Busoni, pianist, composer, editor, writer, philosopher, analyst, transcriber of music: Busoni's "idea of empowering individuality is something that strongly resonates with me."*  The musician-composer was more than a performer. He was recognized in his lifetime as more than a virtuoso who toured Europe and the US. He was looking into music through the eyes of a free thinker approaching atonal, microtonal and the future of electronic music.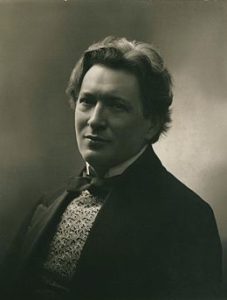 Ferruccio Busoni, composer, pianist, transcriber, theorist (1866-1924). This picture is from 1913.
There is no argument about the difficulty of this concerto. In a string of comments I found online I read this: "it is difficult even to play badly." And this: Only a master pianist can handle it "in a convincing way." Igor Levit was certainly convincing. He performed it as though he not only knew the Concerto in C major, but had listened to Busoni's thoughts while the Concerto in C major was being discovered by its composer. Levit, however, does not try to imitate any composer. He knows that he is the one playing it which means, in the moment, he is recreating it.
The SFS was totally up to this challenge. Esa-Pekka Salonen showed no shyness in approaching the grand and strange music. He was at ease, in control, and the orchestra played as though empowered and revved up for the experience. The musicians were totally in place and correct while sky diving into the music.
There is no program, narrative, or message. It is difficult to describe what happens. I have now read a lot of writing about it, but no one has given me a statement of what this concerto does.
it is written in five movements. So much music happens in each one; the third movement alone has four movements. The sound is huge, the design is gigantic, and yet Busoni demonstrates his respect for traditions on which the world of music plays. The movements are:
Prologo e Introito, Allegro, dolce e solenne- / Pezzo giocoso. Vivacemente, ma senza fretta-/ Pezzo serioso- Introductio. Andante sostenuto/Prima pars. Andante, quasi dadagio/Altera pars. sommesamente/Ultima pars. a tempo/ All'Italiana,. Tarantella. Vivace, in un tempo-/ Cantico: Largamente
The fifth movement, Cantico: Largamente, is written for a male chorus, a "choir invisible." The SFS Chorus members were in the loft but hidden by a curtain that looked like an off-white muslin drape hanging from the ceiling and reaching out like a concave sail. Their song comes from Adam Oehlenschlager (1779-1850), a Danish poet and playwright.  He wrote his "dramatic fairy tale," Aladdin, in 1805 and translated it into German, in 1808. Busoni knew this work and for a while considered making it into an opera. In the end, he kept this song, although he also prepared a version of the Concerto in C major without it.  The concerto is seldom performed, but new productions keep the choir. It begins: "Raise up your hearts to the eternal force;/sense the closeness of Allah, behold his deeds!" The male chorus, directed by Guest Director, Jenny Wong,  performed beautifully. It was a great achievement.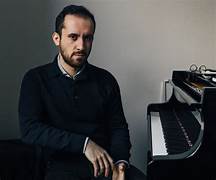 Igor Levit, pianist
What was it like to hear the Concerto in C major? It was the musical equivalent of the Yosemite Falls at the height of the water's power. It was strange, inclusive of many different styles and techniques of playing the piano as well as the other instruments. The concerto quotes or alludes to the styles of other classical composers: Brahms, Wagner, Berlioz, Liszt. In the third movement, Busoni offers an homage to Chopin, also a famed pianist who composed his jewels for the piano. The Concerto in C major was wacko and a Wonder. There was a moment when I saw Levit playing so fast that both hands playing at the same time created a blur. His technical prowess allowed him to create and communicate what was going on in this uplifting, crushing, celebratory dynamo of a concerto. When can I see and hear it again?
*Levit quotes appear in "Limitless Perspectives: Pianist Igor Levit," by Corinna Da Fonseca-Wollheim, in the SF Symphony program book.