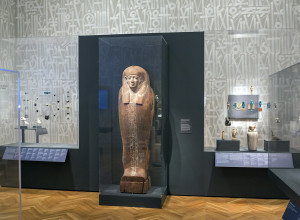 The ancient Egyptians longed for immortality, but the afterlife they achieved as eternally-popular museum displays may not be what they expected. At San Francisco's Legion of Honor Museum, we can contemplate the mysteries of mummification in The Future of the Past: Mummies and Medicine, on view through August 26, 2018. The museum has transformed its intimate Gallery 1 into a showcase of Egyptian antiquities from the Fine Arts Museums of San Francisco's own collection, featuring two mummies: Irethorrou, a 2600-year-old priest, and a woman called Hatason who is 500 years older. A team of scientists, Egyptologists, physicians, museum curators and conservators has explored how thse embalmed individuals lived, died, and were prepared for eternity. Rebecca Fahig and Kerstin Muller of Stanford University Medical School's Dept. of Radiology conducted high-resolution, three-dimensional computed tomography (CT) scans of the mummies, and the resulting data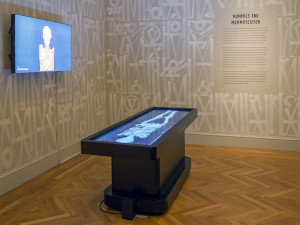 was studied and interpreted by Jonathan Elias of the Akhmim Mummy Studies Consortium.
The exhibit reveals information that has been gleaned about Irethorrou's lifestyle, the society in which he lived, his religion, and the funerary beliefs of his time. The second mummy and her coffin have not fared as well and present a stark contrast to Irethorrou's perfectly preserved body. In high-tech contrast to these ancient Egyptian practices, visitors can examine both mummies by means of an interactive "virtual dissection table." A fascinating group of amulets and tomb furnishings is also on view.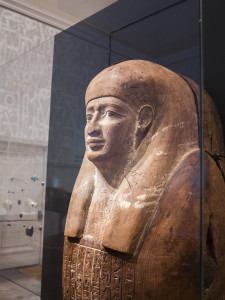 In a brilliant move, the museum commissioned Los Angeles-based artist RETNA to cover the gallery walls with his signature  painted calligraphic shapes, based on Egyptian as well as Arabic, Hebrew, runic and other sources. The ghostly white writing enrgizes the space and evokes a sense of mystery akin to what the ancients must have felt in the presence of hieroglyphics (meaning "sacred writing") Originally a graffiti artist, RETNA (born Marquis Duriel Lewis, in 1979) has built a formidable reputation as a studio painter and public artist; appropriately enough, his stage designs grace the current San Francisco Opera's current production of Veridi's Aida. Renee Dreyfus, Fine Arts Museums of San Francisco's Curator of Ancient Art, explains: "The history of graffiti goes back far into the reaches of antiquity….When I look at RETNA's words I get the same sense of power that I get when I look at hieroglyphics. He has managed to create the same feeling that I get when I walk into an Egyptian tomb." While the interpretive panels in the exhibit are excellent, the sense of unfathomable mystery remains.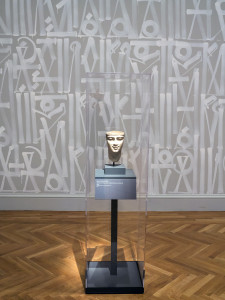 ALL PHOTOS ©JONATHAN CLARK.
Entry to this exhibition is included with general museum admission: adults $15, seniors 65 + $10, students with current ID $6, members and youth 17 and under Free. Legion of Honor Museum, Lincoln Park, 100 34th Ave., SF, Open 9:30 a.m. – 5:15 p.m. Tues-Sun; open select holidays, closed most Mondays. see Legionof Honor.famsf.org