In a few weeks it will be the 100th anniversary of Gustav Klimt's death. He died aged 53, in 1918, due to the deadly influenza of that year.* Gustav Klimt's work never really went away. Posters bearing the images he created were popular throughout the 1960s, for example, and a movie about the remarkable painting, Portrait of Adele Bloch-Bauer, an image unmistakably Klimt's, brought back his art for a vast audience.  San Francisco's Palace of the Legion of Honor Museum is the perfect place for the gorgeous Klimt exhibition which will be on view through January 28.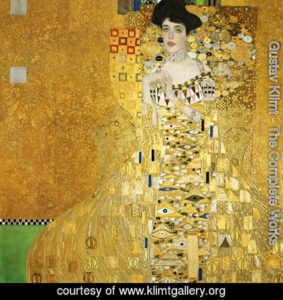 Portrait of Adele Bloch-Bauer (1907) (not part of this exhibition)
The Legion of Honor was built to honor the California "boys" who died in World War I. It is a site which will always be in harmony with early 20th century visions.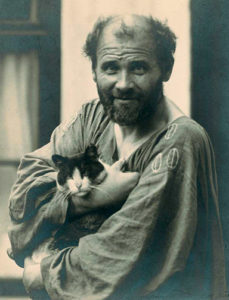 Gustav Klimt and his Cat (Katze), photo by Moritz Nahr
The Legion's exhibition has paired Viennese Gustav Klimt's work with that of Parisian Auguste Rodin (1840-1917), great master of early 20th century sculpture. At first, it might seem an unusual pairing, but it turns out that the artists met each other, in 1902. Their meeting was at an exhibition organized by the Vienna Secession movement. Rodin gave the exhibition his enthusiastic response. Klimt was a leader of the Secession which he helped establish, in 1897. He stayed with the movement to 1908. The movement's goals were to provide exhibitions for young, unconventional artists and bring the best foreign artists to work in Vienna. It was an inclusive movement which did not limit itself to a narrowly defined style.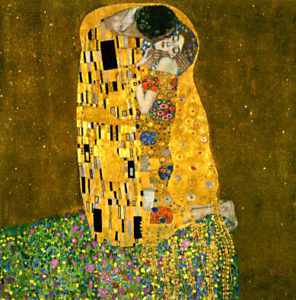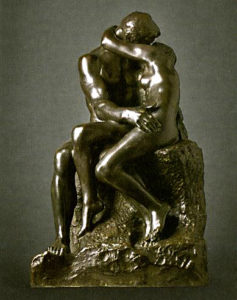 On left, Klimt, The Kiss (1907-1908); right, Rodin, The Kiss (1881-1882)
The Legion of Honor has one of the best, most extensive Rodin collections. Roaming through the galleries of this exhibition, seeing the paintings and sculptures close together, can give a feeling of being a time traveler suddenly able to see even familiar art works as gloriously new. In a gallery corner, there is a letter from Loie Fuller, the groundbreaking, creative dancer whose combination of light, timing, and movement opened the eyes of artists and scientists. Ms Fuller's contacts with Rodin and Alma Spreckles, museum founder, were responsible for the beginnings of San Francisco's great Rodin collection.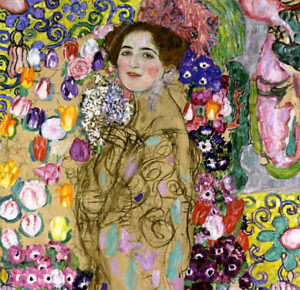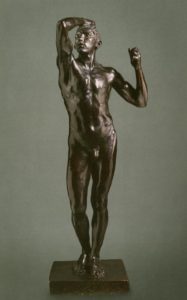 Left: Klimt: Portrait of Ria Munk III, (1917) detail; Right: Rodin: The Age of Bronze, (1877)
A relationship between the works of Rodin and Klimt can be found in the insightful portraits that are so important to each, the attraction they each felt for allegory, and especially the expressive representation of the human body. There is no self-censorship in approaching the erotic. Klimt's Nuda Veritas (Naked Truth) shows that the naked woman's body, not just her face, is her portrait. Klimt's portraits involve overall designs of shapes, colors, and gold. Does the person emerge from this dense, colorful aura or is the overall patterning expressive of the personage? Or is it all design? His landscapes themselves become overall patterning whether a stand of narrow trees growing so closely together or a distant house seemingly overwhelmed by exuberant, thick growths of flowers. Rodin's work always has drama in the power of the individual's presence in The Age of Bronze;  the physical strain visible in the Burghers' of Calais, or the eroticism of The Kiss. This is a Must-See exhibition. The Legion of Honor has added hours for Jan. 27 & 28, the last weekend. Experience Klimt & Rodin soon.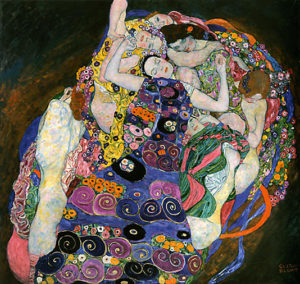 Klimt, The Virgin, 1913
Klimt & Rodin: An Artistic Encounter, Legion of Honor Museum, San Francisco, through Jan. 28, 2018. Legion's hours: 9:30 a.m. – 5:15 p.m., Tues – Sun; SPECIAL KLIMT & RODIN HOURS: 9;30 a.m. – 7:30 p.m. on Jan. 27 & 28. Timed entry tickets needed (also for members but no charge to members). Tickets to the Legion include same day entrance for the de Young Museum and vice versa. 24/7 Call 888/901-6645 or, for members, 800/777-9996.
photo credits for pictures of Klimt's The Kiss, Rodin's The Kiss, Klimt's Portrait of Ria Munk III, Rodin's The Age of Bronze, Klimt's The Virgin all courtesy Klimt & Rodin: A Pictorial, Fine Arts Museums of San Francisco: Legion of Honor
The Department of The More Things Change (The More They Stay The Same) Klimt was born, 1862, in town just outside of Vienna. While I have read that Klimt became interested in using gold leaf from the art he observed while visiting Venice and Ravenna, it must have also been important to him that his father, who came from Bohemia, was a gold engraver. Gustav grew up in poverty as his father did not find much work, and it was an economically difficult era for immigrants.
Here we are in 2018 with another influenza sweeping the world. Can we know which artists we might lose from North America, Africa, Asia, anywhere?