It is time to make your list, choose gifts that are just right–time to select Lively gifts! The Lively Foundation helps you by offering three splendid Lively books. They are beautiful to look at, entertaining, and enlightening to read. You will be tempted to give one (or more) to yourself; better buy two of each!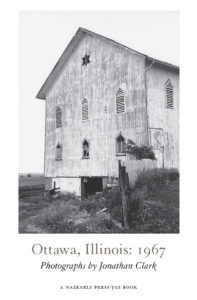 OTTAWA, ILLINOIS: 1967 Photographs by Jonathan Clark, published by Nazraeli Press. This award winning book presents photos of the small town the artist lived in for his first 10 years. He took the pictures when 15 years old. Like the Mozart of photography, his art was already outstanding. Ottawa still exists, but the way of life there is different. You will see a time that is gone in meaningful, beautiful photographs.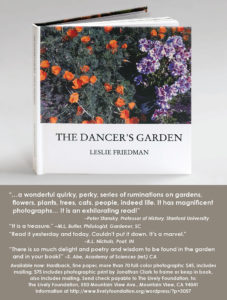 THE DANCER'S GARDEN, This beautiful book has text and photos by Leslie Friedman with additional photos by artist Jonathan Clark and one  by Dennis Parks, English actor. Review and comments on this book call it "a treasure," "a marvel," and "a wonderful quirky, perky series of ruminations on gardens, flowers, plants, trees, cats, people, indeed life. It has magnificent photographs…It is an exhilarating read!"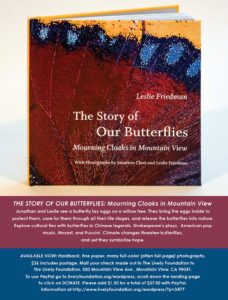 THE STORY OF OUR BUTTERFLIES: Mourning Cloaks in Mountain View, Text by Leslie Friedman with photos by Jonathan Clark and Leslie Friedman. Jonathan and Leslie see a butterfly lay eggs on a willow tree. They bring the eggs inside to protect them, care for them through all their life stages, and release the butterflies into nature. Explore cultural ties with butterflies in Chinese legends, Shakespeare's plays, American pop music, Mozart and Puccini. Climate change threatens butterflies and yet they symbolize hope.
All three books are available now, hardback, fine paper.  Prices include shipping. If you use PayPal, add $1.50 to price. To use PayPal: go to the landing page of livelyfoundation.org  Scroll down to the DONATE button. Follow PayPal instructions OR make your check to The Lively Foundation, mail it to The Lively Foundation/550 Mountain View Ave/Mountain View, CA 94041-1941
OTTAWA, ILLINOIS: 1967                    $55
The Dancer's Garden                          $45
The Story of Our Butterflies               $36
HAPPY HOLIDAYS from The Lively Foundation!