Sunday, March 26, Davies Symphony Hall, San Francisco:  Jean-Yves Thibaudet performed Claude Debussy's Preludes, Books 1 and 2 and blew the minds of everyone in the hall. These Debussy works are seldom heard all together. Maybe some extraordinary pianist would perform the Preludes of one of the Books or possibly one or a few of the Preludes, but who would or could perform all of them? So far as I know, only M. Thibaudet. The Preludes are works for solo piano. Each "Book" has 12 of them. Not one of them is like any of the others, except for their miniature form: each is between two and four minutes long.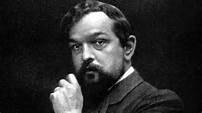 Claude Debussy, composer (1862 – 1918)
These pieces are not the prelude to something else; they may be brief, but each one is a world in itself. Frederic Chopin wrote 24 Preludes but they did not have names or descriptions. Debussy's are written with each one having a descriptive word according to its meter or mood. The first one of Book 1 is "Lent et grave," slow and serious. However, Debussy also gives each one a descriptive title that appears at the end of each prelude. In the first one of Book 1 it is "Danseuses de Delphes," The Dancers of Delphi. Another one in Book 1, the third prelude, has Anime as its traditional heading: Animated. The descriptive name at the end: "Le Vent dans le plaine/suspend son haleine;" "The wind over the plain/Holds its breath." This is one of the literary quotations or references that appear in the Preludes. The phrase may be from Charles Simon-Favart, an 18th century composer and playwright. Later, the French poet Paul Verlaine used it as a heading for his poem, "L'extase langoureuse." In 1874. Debussy had made a song of Verlaine's poem. These artists are in tune with their culture, whether it is the culture of a century ago or current.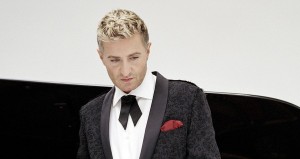 Jean-Ives Thibaudet, French pianist who lives in Los Angeles
Capricieux et leger, the 11th Prelude of Book 1, also has the title, "La Danse de Puck." The Puck of Shakespeare's A Midsummer Night's Dream is a playful jokester. The music of this Prelude has the liveliness of Puck's flying and jumping and his occasionally trouble-making character. Debussy loved Shakespeare and was also an anglophile. In Book 2, the 9th Prelude is Grave, Hommage a S. Pickwick, Esq. P.P.M.P.C.. It honors Samuel Pickwick from Charles Dickens's first book, The Pickwick Papers. 
M. Thibaudet always dresses elegantly. This time, he appeared in black. From where I was sitting I saw him well but may have missed details, except for his shoes. I could see the bright bar across the top of his foot. I mention this because it drew my eye to his feet. In the program notes, James M. Keller quotes composer Alfredo Casella, a Debussy contemporary, who also took note of Debussy's feet: "Moreover, he used the pedals in a way all his own." I am convinced that M. Thibaudet did so, too. Most of the time, I could see only the downstage foot (the foot closest to the audience). The upstage foot must have been exactly parallel and doing its own pedal thing.
Here is more from Alfredo Casella on Debussy's playing: "…his sensibility of touch was incomparable; he made the impression of playing directly on the strings of the instrument with no intermediate mechanism; the effect was a miracle of poetry."
This is an apt description of M. Thibaudet's playing as well.
While it is entertaining to glance through the traditional citations and names like "Modere (Brouillards) Moderate…Mists, it would be a terrible mistake to disregard the beauty and difficulty of the music. No one in the audience could fail to realize the magnificence of M. Thibaudet's performance. It was literally stunning to watch and listen. Each Prelude has its own meter, a special tone, a unique set of technical challenges. The pianist does not have a through-line of theme or color or emotion. The Preludes are a celebration of the particular. Attention to the most challenging individual elements of the pianist's technique cannot waver. It is more intense and requires more precision than an Olympic Decathlon and probably as much strength and energy.
Jean-Yves Thibaudet performed something that maybe no one since Debussy himself has done, or done so well. He took the challenge of performing both Books and embraced the vast variety and individual beauties of the Preludes. It could be compared to tight rope walking between two high rise buildings while playing master level chess. The audience cheered and applauded for at least 5 curtain calls. M. Thibaudet succumbed to the audience's raptures and played Sir Edward Elgar's Salut d'Amour as his encore. It was a salute to the program's complexity, charm, originality, and earth-moving beauty. The audience called M. Thibaudet back for another 4 or 5 chances to applaud him before everyone reluctantly realized the music was over for this night.
Jean-Ives Thibaudet will perform the solo program of Debussy's Preludes throughout the US and Europe this year. He also will appear in recital with Renee Fleming and will tour in the US and Japan with Midori. In addition, he will perform with Itzhak Perlman and Friends in New York City, Michigan, Toronto. The French Ministry of Culture awarded him the title, Officier, in 2012. He is a great artist; don't miss him.