By the time you read this, the exhibition MONET: The Late Years may have closed. It is scheduled at the De Young Museum from opening February 16 to closing May 27, 2019. I went twice. I had to see it more. I felt a need to be surrounded by the jumping, flowing, springing energy of these pictures. The light beams from them in colors which pulsed into my own pulse. This great exhibition was organized by the Fine Arts Museums San Francisco and the Kimbell Art Museum, Ft. Worth, "with the exceptional support of the Musee Marmottan Monet, Paris" which was the source of many of the paintings. Waterlilies, yes, and also there were the Japanese bridge Claude Monet created for his garden and his paintings, the willows, agapanthus, iris, day lilies, and roses. The onlooker feels there is a mystery to these flowers and trees which on an average spring or summer day one might walk past, hardly noticing them.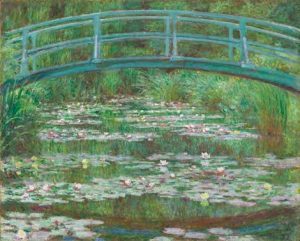 Water lilies under the Japanese Bridge.
Monet observed his own powers of observation quickening as he looked with more care. He wrote: "It took me some time to understand my water lilies…I cultivated them with no thought of painting them….One does not fully appreciate a landscape in one day….And then, suddenly, I had a revelation of the magic of my pond. I took my palette. From this moment, I have had almost no other model." The model includes the reflection of the sky's colors and clouds in the lily pond. He pictures the inclusive reality of the plant he might touch and the entire atmosphere in which that plant and the reflection of the plant must live. The colors do not stop anywhere between these realities.

The roses arching over a path.
The "late years" of Monet's life, he was born in 1840 and passed away in 1926, brought him personal grief as well as new artistic visions. He lost his wife, Alice Hoschede,1911; his first wife, Camille, had also died; his step daughter, Suzanne, died in 1899; his eldest son died, in 1914, the year World War I began. His eyesight was failing due to cataracts. He had surgery, which he had feared, in 1923. It was successful enough to allow him to work more vigorously. The exhibition includes works which come in series: a weeping willow described in swirling lines and dense brush strokes is seen in mostly red tones, mostly blue, mostly green. He is captivated by the changes we see every moment depending upon the time of day and weather as well as one's own point of view.## See it now, that now is already gone and replaced by this, oops, no, that, new now. The motion of the water, the drifting clouds change the reflections one may see; both phenomena will move the waterlilies just as a breeze will make the iris leaves lift and fall. These plants are alive. That means that in the deepest reality they are always moving. Comments about his broad, free brush strokes which suggest more than delineate the exact shape of a flower overlook this fact: the rose is never the same, the lily is never still, they are in motion because they are alive.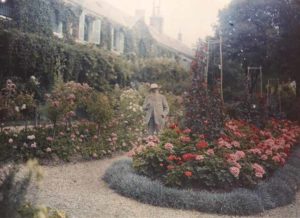 Claude Monet in his garden.
When I arrived in Golden Gate Park for the first visit to this exhibition, there was no place to park. It took a lot of time circling to find a place. We had driven from Mountain View, about 48 miles away. It took nearly two hours to get there. Could they all be there for Monet? I thought it was the most crowded I had seen the park and a museum since the days of King Tut. Why were so many drawn to this exhibition. My theory is this: we hunger for beauty. We give our love for this gift of beauty. Is it out of fashion? Do serious artists turn away from beauty? The audience for Monet felt excited, surrounded, maybe caressed, by color and beauty. Monet painted to present the reality of the plants and water and sky all around him, and the reality was beauty.
##Please see Susan Embers' review of Jonathan Clark's photography exhibition, "Gator Time: Gulf Variations" in Hedgehog Highlights. The link is www.livelyfoundation.org/wordpress/?p=2722. Ms Embers points out the mastery of technique and vision that allows Clark to be perhaps the one other artist who has purposefully made his art by penetrating the mystery of time, place, weather changing what one may see even when looking at the very same place and subjects.