The Lively Foundation is proud to announce the publication of The Dancer's Garden, a new book by Lively's Artistic Director, Leslie Friedman. It is a beautiful hardback book with text and more than 60 full color photographs by the author and 10 photographs contributed by internationally admired photographer, Jonathan Clark.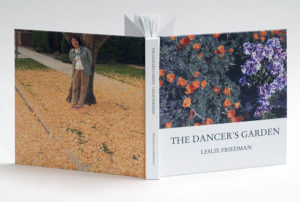 Cover photos by photographer, Jonathan Clark.
"Neighbors, strangers, cats, flowers, weeds, trees appear in the garden and in my memory. I meet time through lives in the garden, including my own." Dancer/choreographer Leslie Friedman writes about her humorous, informative, piquant experiences in gardening, dance, and life.  Friedman's groundbreaking solo dance performances have been acclaimed worldwide. She holds a Ph.D. in History from Stanford, and an A.B. summa cum laude from Vassar College. Her writing has been published in the US, France, India, and Poland.
The book is now available from The Lively Foundation. Hard back printed on fine, glossy paper. Price: $45 (this price includes postage). Or the book with signed photographic print by Jonathan Clark, $75 (this price includes postage). edition. To buy The Dancer's Garden, contact  livelyfoundation@sbcglobal.net