Close your eyes and think of ancient Greek statues. Do you see them in their gleaming white marble? Do you see how the classical purity of their forms is presented without enhancement or any distraction from colors or other decor? That's certainly the way anyone interested in art history would have envisioned them for the past several centuries. Turns out, that vision is wrong. The astonishing exhibition, Gods in Color, will be at the Palace of the Legion of Honor Museum through its last day, January 7th. It's more than an eye-opener. It will not just invite you to reconsider everything you know about aesthetic values; it will force you to blink a few times and conclude the past is something different, maybe more complicated, than we thought we knew it to be.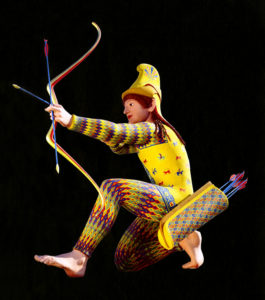 Reconstruction of Trojan Archer, 2005. Original: Greece, Aegina, ca.480 B.C.E.Glyptothek Munich. Copy synthetic marblecast with natural pigments in eg tempera, lead, and wood, height 37 3/4in. Leibieghaus Sculpture Collection (Polychromy Research Project), Frankfurt, on loan from the Universit of Heidelberg, LG157. picture courtesy Fine Arts Museums San Francisco.
This writer had heard years ago that the Acropolis was thought to have been painted in bright colors (my mother, a student of Art & Archaeology at Washington University, St. Louis, called this "a wake up call.") Improved technology has now analyzed the bits and traces of color especially on statues and architectural remnants. The Gods of Color exhibition shows reconstructions of famous statues, friezes and even an Ionic capital all painted according to what the scientific detectives have found. Shown with the reconstructions are outstanding, original, unchanged works from classical Greece, Egypt, the Near East. The exhibition is fascinating not only for the chance to see these art works in a way close to the way the ancient Greeks saw them, but also for what is revealed about the science and economy of the times.
For example, one color is called Egyptian blue. The color was entirely synthetic. The Egyptians had worked out the science of producing a blue for their art through their knowledge of chemistry. They used silica, lime, copper and alkali. Blue made from lapis lazuli, a semi-precious stone, was too costly for a multitude of projects. Other colors in the Greek works were derived from natural mineral sources: red and yellow ocher, red cinnabar, azurite and malachite. The cave paintings in Lascaux (ca. 17,000 B.C.E) demonstrate that even then the artists could create colors from minerals. Dr. Rene Dreyfus, Curator in Charge of Ancient Art and Interpretation, explains that although they might have found a way to make the deep black for their art work from local sources, it's most likely that they used hausmannite, a rare manganese oxide that would have come from the Pyrenees, 150 miles away. The use of color derived from minerals like lapis lazuli suggests that even in these eras so far away from us in time, artists could have relied on far flung trade routes for color. The lapis, for example, would have come from Afghanistan.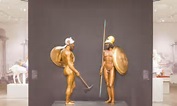 When you first enter the exhibition, you will see two magnificent male, warrior statues. They demonstrate that bronze statues (these from ca. 460 B.C.E.) also were enhanced by color. Silver, colored stones, gold, copper were used for teeth, eyes, eye lashes, lips, and nipples. The color was an integral part of all of the "glory that was Greece." It appears that during these golden eras, nude art works would have been naked without their colors. Will you see these statues and think them garish? That is surely what our culture had long ordained. Rush to this exhibition and consider how much you will, or will not, reconsider.  Warrior picture: Two bronze warriors from Riace, originals ca. 460 BCE, These were found underwater off the coast of Reggio di Calabria.  The last day for Gods in Color is January 7, 2018. See legionofhonor.org     Museum Admission: Free for members; $15 (ages 18-640, $12 (over 65), $6 (college students with ID), Free for age 17 and younger.