If you have ever wondered about time travel, the ability to wake up and live in an entirely different era, the exhibition CASANOVA: The Seduction of Europe comes very close to letting you live surrounded by the greatest luxury in 18th century Europe. On view in the Legion of Honor Museum, San Francisco, February 10-May 28, the paintings, decorative art pieces, furniture, period costumes, sculptures, plus your imagination may whisk you back to a luxurious era which may have seemed – to those who lived at the top tier of their societies – to promise to continue in an unchanging bubble of perfection forever. It did not, of course, as the century ended before its due date with violent revolutions in England's American colonies (1776) and France (1789). However, it was gorgeous fun for those on top while it lasted.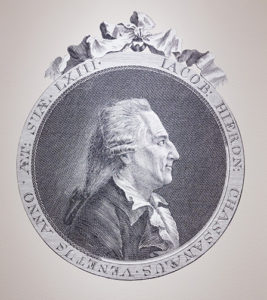 Giacomo Casanova (1725-1798)
Giacomo Casanova was born in Venice to a family of actors. He left home when young to study in Padua and received his doctorate in law at age sixteen. He was an avid reader with a gift for witty conversation and the ability to fit in to ever higher classes of society. He became an autobiographer, writing an enormous multi-volume work that is as much an autobiography of the 18th century as it is of him;  spy; world traveler; gambler; and, most certainly, every bit the seducer-womanizer extraordinaire as he is most remembered. The exhibition is less about Casanova than it is about the world through his eyes. Max Hollein, Director and CEO of the Fine Arts Museums of SF said, "The cosmopolitan Casanova is a fitting guide to lead our tour of the glittering art capitals of eighteenth century Europe…" Casanova lived a quarter of his life in Venice, but he also traveled extensively in an era when getting around the globe took serious efforts. Casanova traveled to the Ottoman Empire, Russia, what is now the Czech Republic, and lived in Italy, France, and England. The idea of creating an exhibition through Casanova's eyes originated with the Kimbell Art Museum, Ft. Worth, TX. The Legion of Honor and the Fine Arts Museum of Boston collaborated in creating the exhibition which features works on loan from many great museums.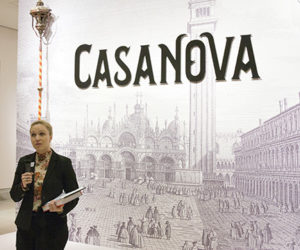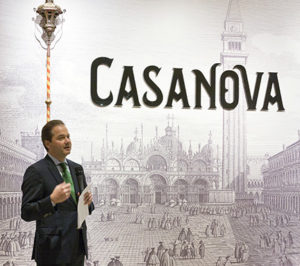 Melissa Buron, Director, Art Division for Fine Arts Museums, San Francisco, and Museum Director Max Hollein discuss the approximately 200 art works of the exhibition.
The significant painters whose works are featured include Francois Boucher, Jean-Honore Fragonard, Canaletto, Tiepolo and William Hogarth. Canaletto's works place the viewer within Venice's unique city-scape of light and water.  As Melissa Buron pointed out, indoors, the world was lit by candlelight. Candles were expensive; one way to show wealth was to be extravagant with candles. In addition to the imprecise glow of the candles, an air of mystery characterized Venice. The Venetians, known for  masks and masquerades, often wore their masks from October to Mardi Gras. This enhanced their ability to change or hide their identity, a useful ruse for seduction.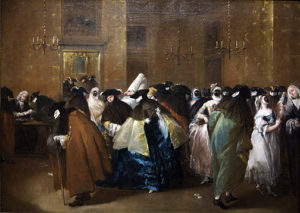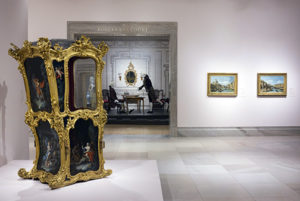 (Left) Franceso Guardi (Italian, 1712-1793) The Ridotto of Palazzo Dandolo at San Moise with Masked Figures Conversing ca. 1750. The ridotti were state sponsored gambling rooms, sometimes places of music and dancing. Everyone was required to wear masks which made it easier for thieves and prostitutes to mix with the elite. (Right) 18th c. Sedan chair which belonged to Alma Spreckles, founder of San Francisco's Legion of Honor
CASANOVA: The Seduction of Europe offers a look at the intimate, erotic and sensual arts which stirred passions in 18th century nobles as well as the opportunity to see the grandeur of porcelains, silver objects, fanciful and exquisite snuff boxes which were all part of the matchless luxury of palaces from St. Petersburg to London. Especially useful for those visiting the exhibition to aid time travel are three tableaux vivants — displays of life size mannequins dressed in richly embellished period costumes. The one representing Venice shows a man visiting a convent where he will have an assignation with a young woman he desires. The Parisian tableau, described by Martin Chapman, Curator-in-Charge of European Decorative Arts and Sculpture, presents an aristocratic woman sitting by a small table covered with vessels to "make her toilette," cleanse and make up her face and hair. Nearby a male caller who faces the lady is holding hands with the lady's maid. In London, there are elite gentlemen gambling; one has just discovered the other is cheating.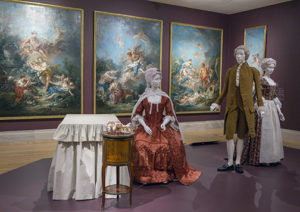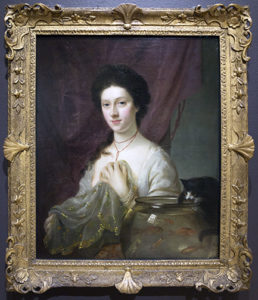 (Left) Parisian tableau. (Right) Nathaniel Hone (Irish, 1718-1781) Kitty Fisher, 1763. Kitty Fisher was London's famous courtesan. Outrageous accounts or her life appeared in the 1750s. She was determined not to be an ordinary prostitute. She secured her fame when she posed more than twenty times for three portraits by Joshua Reynolds.
Visiting this exhibit is a rare opportunity to enter another world through its art. The last gallery has paintings and sculptures of great individuals Casanova met: Catherine the Great, George III, Benjamin Franklin, Voltaire. Walking through the door on the far end of that gallery, one might feel the balance of the 18th century slip.
See famsf.org for more information.
All photographs by Jonathan Clark