The Lively Foundation was delighted to invite our music loving friends to attend the GRAND FINALE of the Merola Opera at the SF Opera House. Every voice was extraordinary on August 17 when our Lively group of twelve attended. Through their Merola months, the artists perform full length operas, the Schwabacher Concerts of select opera acts, and recitals. The Grand Finale is their graduation celebration. Their performances are with the full San Francisco Opera Orchestra.
In the Grand Finale, the "Merolini" perform a selection of arias, choruses and groups. In some "greatest hits" performances, there will be one or two pieces which are fabulous and maybe one or two which do not please. Each audience member might have his or her favorite or least favorite. In this performance, each presentation truly made the audience open eyes wide, catch the breath, and applaud. The applause only slowed because the next selection would begin a few breaths after the previous one ended. The program presented the song in its setting, so each selection is performed in the dramatic context of the opera from which it came. This allowed the performers to engage in their characters and show the audience their acting ability. It was done so successfully that for the time of that scene the audience experienced the pain or joy in the moment of the story.
Named in honor of the first director of the San Francisco Opera, Gaetano Merola, the program brings singers who are already beginning their careers to San Francisco for twelve weeks of intensive training and performing. Merola is widely considered among the finest training programs in the world. International stars launched by Merola include Ruth Ann Swenson, Susan Graham, Deborah Voight, Anna Netrebko, Dolora Zajick, Brian Asawa, Rolando Villazon, Thomas Hampson, Quinn Kelsey, Conductor Patrick Summer and so many more.
Among memorable moments were Alice Chung, Mezzo-Soprano, as Gertrude and Timothy Murray, Baritone, as Hamlet, Stefan Egerstrom, Bass, as the Spectre, in Hamlet by Thomas.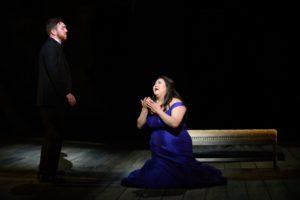 (L to R) Timothy Murray and Alice Chung
Ms Chung's presence was powerful even as Mr Murray castigated her for the death of her husband, Hamlet's father. Their voices gave the Mother-Son relationship a new dimension beyond the usual lascivious Queen and up-tight Prince. Esther Tonea, Soprano, as Fiordiligi; Michael Day, Tenor, as Ferrando; and Edward Laurenson, Baritone, as Don Alfonso, gave Non son cattivo cornico…L'abito di Ferrando sara buono per me…Fra gli amplessi from Mozart's Cosi Fan Tutti the lilting, teasing buoyancy of this opera of practical jokes in the war of the sexes.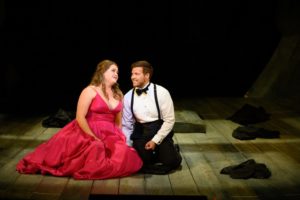 (L to R) Esther Tonea and Michael Day
A tense scene from Maria Stuarda, by Donizetti, had all 2,000 listeners on the edges of their seats. Chelsea Lehnea, Soprano, sang Elisabetta (Queen Elizabeth I of England); Salvatore Atti, Tenor; Conte di Leicester; Rafael Porto, Baritone, Lord Cecil. The Queen cannot make up her mind: should she sign the execution order and have Mary, Queen of Scots killed or not? As the threesome debates the political pros and cons of allowing Mary to live or killing her, the voices soared. It was a gut wrenching and magnificent experience demonstrating the expressive and musical gifts of opera.
In a lighter scene, Elisa Sunshine, Soprano, sang Marie, in Donizetti's La Fille du regiment (Daughter of the Regiment) and Andrew Dwan, Bass-Baritone, was Sulpice, who acts as her adoptive father. Both voices were outstanding. Ms Sunshine surely deserves her last name. Her actions as well as her musicality made her performance an absolute delight. What can I do now? Running up against a word limit when the Grand Finale's incredible artists have not all been given their well deserved salutes? A rush to mention more does not do them justice. Hat's off to Laureano Quant, Baritone, who sang Sir Riccardo Forth from Bellini's I Puritani, Kneeling, down stage center, he reached into our hearts. Brandon Scott Russell, Tenor, sang the Prince from Dvorak's Rusalka with a voice and presence that were surely royal; Jeff Byrnes, Baritone, was Germont, the father trying to spare Alfredo, his son, sung by Salvatore Atti, Tenor, who has lost himself to Violetta, in Verdi's La Traviata. Mr. Byrnes, with a baritone which gets that musical term "burnished," makes the father figure sympathetic. His distress is in his voice as the foolish lover, besotted Mr. Atti, his son, runs after that woman.
Keep track of these names! Soon you will see them perform around the US and the world. How exciting to be able to say, I was there when Anne-Marie MacIntosh sang Giulietta in Bellini's I Capuleti e i Montecchi, or Brennan Blankenship sang Stephano in Gounod's Romeo et Juliette. Cara Collins, Anna Dugan, Victor Starsky, Amber R. Monroe, Hyeree Shin, Patricia Westley, Edith Grossman, Nicholas Huff. Each one a star. No kidding, keep this list!