The Lively Foundation is very sad that Mrs. Krystyna Maria Chciuk passed away in September. She was a lovely person and a friend to so many. Lively and its Artistic Director, Leslie Friedman know how fortunate we are to have known her. At the age of 15, she was sworn in to the Polish Resistance. It was something of an accident because she was really too young.  However, she stayed and became a Laczniczka, a courier. She took guns and messages from one side of Warsaw to another and also led soldiers across the occupied city. She participated in the Warsaw Uprising, 1944, and was captured by the Nazis. She was forced into Prisoner of War camps.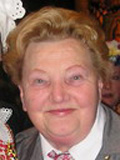 Mrs. Krystyna Chciuk
In 1945 she was freed from the camps and joined the Polish Army in Exile, in London. She met Mr. Wladyslaw Chciuk, a pilot. He had been a Captain in the Polish Air Force and flew with the RAF in the Polish Squadron. He was a Prisoner of War in Germany, 1943-45. They were married in 1951. In 1952, they came to the US, first living in Milwaukee and then moving to San Francisco. While working full time and caring for her family of three daughters and Mr. Chciuk, she devoted herself to preserving the Polish language and culture in her new home. She was the founder of the Lowiczanie Polish Folk Ensemble, teaching and directing the dances. She also was energetic in support of Polish Scouting and Polish Saturday language schools. As her daughters stated in her obituary, "we shared our mother with all of you more so than many people share a family member." Pani Krystyna Chciuk contributed to the whole Bay Area through her integrity and kindness. She was always a shining light in our multi-cultural culture. She is greatly missed.