Gladys Knight had her first great hit when she was 16 years old. She is called the Empress of Soul, but her domain includes Gospel, which she started singing at home in Atlanta when she was 4; R&B; Pop; and something called Adult Contemporary which could include all the others, too. She has No. 1 hits in each of those categories. Her performances with the San Francisco Symphony with her own vocal quartet and musicians, Dec. 12 & 13, rocked Davies Symphony Hall. Her smiling, up beat presence, her terrific voice, the great songs from whenever all added up to an entertaining, uplifting, fun, touching night of music.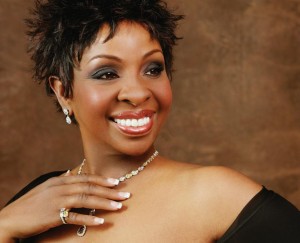 The years have done nothing to diminish her singing or her person. Anyone out there who is of the age to have been young when Gladys Knight & the Pips were new can be happily assured that she looks and sounds fantastic. She prowls, skitters, and boogies across the stage. In fact, just standing still she is dancing. As a solo performer and as part of the much celebrated group, she has won seven Grammy awards and recorded thirty-eight albums. Ms Knight never sat back; she was always working, creating, producing, performing.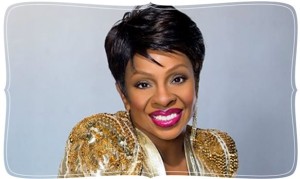 With so many songs that the packed to the rafters audience wanted to hear, was she able to fit in all the hits in her non-stop 85 minutes on stage? A lot of them. Heard It Through the Grapevine, The Nitty Gritty, If I Were Your Woman–and more from the Pips era were there. She and JaVont'e Pollard, one of her quartet, sang If I Were Your Woman as a dramatic, alluring duet. The Pips, her brother and two cousins, retired after decades of success, in 1988. From 1987 on, she recorded solo. At Davies she also performed a tribute to great ladies of song including Ella Fitzgerald and Lena Horne, singing songs associated with them such as The Man I Love and Stormy Weather. No worries, Neither One of Us (Wants to be the First to Say Goodbye) was there, too.  

Ms Knight performed and recorded with many celebrity singers including Ray Charles, Patti Labelle, Cyndi Lauper, Dionne Warwick. In 2009, she sang His Eye is on the Sparrow and The Lord's Prayer at Michael Jackson's funeral. Her friendly patter during the concert made it clear that her faith is central to her. She and her singers sang The Church Said Amen, in beautiful harmony. She  created and directs Saints Unified Voices, a Mormon themed choir. The performers accompanying her were first rate. Singers: Alexus Hoover, Brandon Smith, Porcha Clay, JaVont'e Pollard. Stellar musicians: Leon Turner, pianist and Musical Director; James Davis, guitar; Joseph Green, bass; Yuko Tamura, keyboard. Gail Deadrick conducted the San Francisco Symphony. Ms Deadrick has served as conductor, pianist, and arranger for many artists in addition to Ms Knight (for whom she is also a tennis partner) including Marilyn McCoo, Nell Carter, Nancy Wilson. It was inspiring to be presented with music made by Ms Knight's collaborating artists. She closed with Midnight Train to Georgia: tears of joy all around Davies Hall. Gladys Knight tours in Jan. 2017. See gladysknight.com