This is an article by author Don McPhail. It appeared in the November issue of OMVNA (vol. 31, Number 4) which covers the Old Mountain View, CA area.
ARTIST IN RESIDENCE: Dr. Leslie Friedman, Dancer, Choreographer, Writer
With quiet energy and a generous nature, Leslie Friedman is a local treasure. Her willingness to share and motivate other is distinctive. Residents who have participated in Leslie's dance classes or the International Dance Festival@Silicon Valley which she founded and directs may be surprised to learn that this same unselfish teacher is an award winning, world-renowned dancer and ambassador of art. All of Leslie's classes, the Festival, and other Lively Foundation events take place at Mountain View's Masonic Lodge, in the heart of Old Mountain View.
Leslie Friedman's extraordinary background is documented on The Lively Foundation's website/blog  www.livelyfoundation.org   Leslie's remarkable career as a dancer and choreographer has earned her acclaim from audiences and critics alike on four continents. She has performed with the support of the US State Department and host countries in Russia, China, India,England, Spain, Poland, Egypt, South Korea, Japan, and more. A writer and former history professor, she received her Ph.D. in Modern British History from Stanford. She taught at Stanford, Vassar, and Case Western Reserve before returning to dance professionally.
An invitation to introduce American modern dance to the artists of India's National School of Drama led to a Fulbright Lectureship to support her work and travel. Beginning at Viswa Bharati University, home of Tagore, India's Nobel winning poet, she performed across India: new Delhi, Bangalore, Madras, Calcutta, and Jaipur. Her work was so well received that each place invited her back for more performances.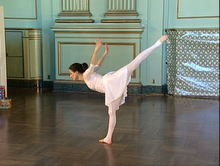 Representatives of Indian arts institutions, US consulates or Fulbright in India took her to the next plane or train, but she traveled as she danced: solo. She was welcomed by people with whom she maintains long friendships. On China or Bulgaria she says, "I met wonderful individuals and learned so much."
The success of her first India trips led to more. She performed and taught in Sri Lanka, Egypt, and Tunisia on that journey. Word of her beautiful dancing and ability to relate to new people and places spread, leading to more journeys touring her art. Next: Budapest, Pecs, and Gyor, Hungary; Barcelona and Madrid, Spain; Moscow and Leningrad, USSR. She knew these were peak experiences and was thrilled to be doing what she loved for appreciative, knowledgeable audiences.
The US State Department and The Place, London's foremost theater for modern dance, co-sponsored her performances there. She taught her choreography to London's Ballet Rambert. In China, she taught modern dance and created choreography for the national ballet academies: Beijing, Shenyang, and Shanghai. She introduced modern dance to Poland's national ballets, making four extensive trips to Poland and Romania performing and choreographing.
She continued performing concerts across the US and the Bay Area. She and her company performed education performances about the the Gold Rush for thousands of students from San Jose to Marin. She created several firsts: concerts honoring the many holidays at year's end; benefit concerts for breast cancer patients; Heroic, Beloved, a concert for Women's History Month performed in multiple states' universities and arts centers.
For this writer, Leslie Friedman's delight in sharing her art is most inspiring see in the context of tumultuous historic events going on around her as she keeps dancing.
Current book:  The Dancer's Garden, published in April, 2019
Current project: International Dance Festival@Silicon Valley, Founder & Artistic Director