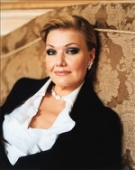 San Francisco Opera's performance of Jenufa by Leos Janacek was spectacular, June 28, at the SF Opera House. There will be one more performance of this powerful, emotion grabbing, musically fascinating work. It's Friday, July 1; don't miss it. The SF Opera Orchestra, conducted by Jiri Belohavek, has never played better. The voices of the singers  were stunning. Not content with making beautiful sound, the singers made their sound perfectly fit the characters they presented. Karita Mattila, pictured above, performed the role of Kostelnicka Buryjovka. From the first moment she is seen onstage, her presence becomes the tragic center of action. Her voice, suffused with knowledge and emotion, reaches into every listener. A brilliant opera star, this is her onstage debut in this role (she performed it in concert with the Czech Philharmonic Orchestra conducted by Jiri Belohavek, in April). She has made it her own.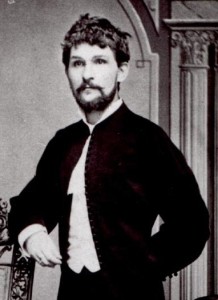 Czech composer Janacek began work on Jenufa, in 1895. It was premiered in 1904, in Brno, and in Prague in 1916. Janecek came from a village much like the one in his opera. He collected and studied music and songs from Moravia, his home region, as well as its speech patterns and expressions. In Jenufa, the characters live in a tightly knit community, isolated from outside culture. Jenufa is a young woman who loves Steva, a handsome man who owns the mill and is also a drunk and a flirt. At the beginning of the opera, she reveals that she is pregnant and prays that Steva will not be drafted but will marry her, saving her reputation and her life. Laca, another villager, has loved her all his life, but she is blind to him, especially now. The village does not offer a lot of options for an intelligent young woman. She teaches others how to read, but she cannot read the facts that Steva will only bring her trouble.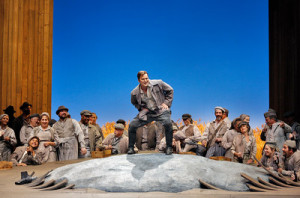 Steva brags to his friends that all the girls want him. Tenor Scott Quinn as Steva was both completely self-centered and too frightened of responsibility to have anything to do with Jenufa and her problem. In excellent voice, he  performed splendidly enough to earn boos at the curtain call. He was also frightened of the Kostelnicka, village sacristan, who demanded he spend one year sober before she could let him marry Jenufa, her stepdaughter.  At a loss for what to do, Jenufa hides in her stepmother's home to have her child. Only 8 days after the birth, her stepmother has invited Steva to visit in order to convince him to marry. He refuses. In a fit of jealousy, Laca cut Jenufa's face. She is less beautiful now and has a baby. He will marry the Mayor's daughter instead. Laca visits and declares his love again. Desperate, the Stepmother finds a way to make this match work.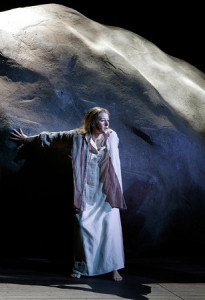 Lovely Soprano Malin Bystrom, making her debut in the role as Jenufa, experiences changes through the events of the opera. An international star, she certainly must keep Jenufa in her repertory; she was exquisite. When she enters in Act I, she is a vision of happy youth. Her movements suggest a sought after young woman whose love is fulfilled. She enters through the bright sunlight of the upstage image of ripe grain. However, the set is built so that two high walls nearly connect to each other at the point where the outside world is seen. Production Designer Frank Phillipp Schlossmann did a wonderful job of creating the enclosed, separate world of the villagers. He also uses the visual theme of stones to match the frequent mention of stones in the text. There is a possible millstone, mysterious and extra large, on stage in Act I. In Act II a stone takes up the entire interior of the Stepmother's home. When we see Jenufa after the birth, she is weak, frightened of what will become of her, and yet loves her baby.  The world of the opera might seem as distant and peculiar to 21st century San Franciscans as life on Mars. Public shame and hopelessness, real and powerfully portrayed, are the future for Kostelnicka, Jenufa and the baby.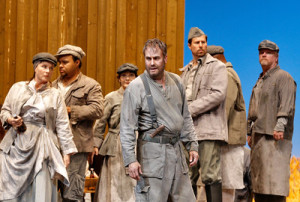 Laca agrees to marry Jenufa. Sung with great success by tenor William Burden, Laca also goes through changes from angry, violent outcast, to pacified, hopeful helpmate. This is where the internet tradition of "spoiler alert" should appear in this Hedgehog Highlight. Terrifying events will occur: the Kostelnicka confesses to her crime, the crowd tries to stone Jenufa using Designer Schlossmann's very believable, rugged decor. Out of this terror, there is something nearly like a happy ending. In classical theater, it's a comedy if it ends with a marriage. Order and harmony return that way. While commentators have noted that the Kostelnicka confesses in order to spare her beloved stepdaughter and because she recognizes that she acted as much for herself as for Jenufa, for this observer it is necessary to note that none of the tranquility that is achieved for Laca and Jenufa could have happened without the actions of the suffering Kostelnicka. The cast was wonderful. It was a great night for music, a triumph for theater. Do not wait; buy your tickets now.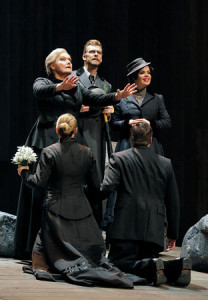 The loving sinner Stepmother, blesses the nearly happy couple before the truths are found out. For another Hedgehog observation of Karita Matilla, please go to  http://www.livelyfoundation.org/wordpress/?p=758  Ms Matilla made her debut with the San Francisco Symphony, in the Beethoven Festival, June 17, 2015, singing Ah! Perfido Scene and Aria, Op. 65. In this Jenufa post, photos except the unattributed ones of Ms. Matilla and Janacek, are ©Cory Weaver/SF Opera.