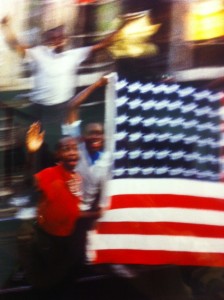 An exciting new photography event opened in San Francisco, June 26, and runs through Sunday, the 29th, at the Festival Pavilion, Ft. Mason Center. Sunday's hours are 11 a.m. to 5 p.m. Admission is $12-$15. Anyone curious about what's happening in the world of photography around the world will find much to think about, and art lovers enjoying the Marina on a Sunday afternoon will also find a lot of interest. PhotoFairs opened first in Shanghai, September, 2016. San Francisco is its choice for the American venue. It features galleries from fourteen countries, twenty-two cities, and says it presents "cutting edge contemporary photography on a global scale." Its artist selection focuses on those "never before seen in the Bay Area" as well as some West Coast artists.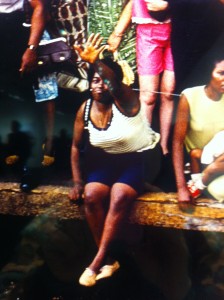 Paul Fusco's photographs from the train carrying Bobby Kennedy's body to Washington, D.C. for burial in Arlington Cemetery, June 8, 1968, made an arresting and engrossing series of 21 images selected from a vast archive of these pictures. Some thousand of them had been in the Library of Congress. Fusco stood on the train and continually snapped the pictures capturing the emotions of endless lines of Americans watching, saying good-bye. The boy displaying the flag of his country, shown above, is a detail of one of the photographs. Danziger Gallery also has a set of these photos available in a book or sold individually.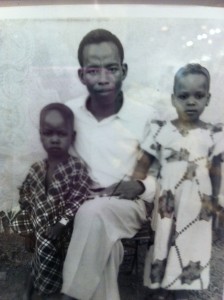 The work of Seydou Keita, photographer from Mali, showed a group of nine small photos framed separately in one large display frame. They resemble family photos without any obvious event that would have brought the individual pictures together. The individuals pose with serious faces. There is a man with two children. A little boy leans into the man's shoulder; the little girl's right hand is tucked under the man's wrist in a touching connection. A woman in elegant dress is posed on a settee. The onlooker is peering into life somewhere else; it is hard to turn away from these people one is meeting without having met.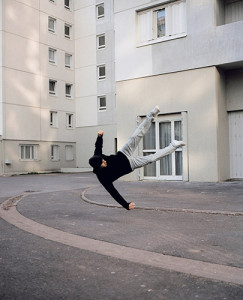 The motion in Denis Darzacq's photographs La Chute #15 and La Chute #2 (pictured here) catches one's eye from across the hall. La Chute means The Fall. The French photographer went to Parisian neighborhoods where, in 2005, there had been riots. He captured young residents of the banlieus doing acrobatic feats and breakdancing in the streets. Suspended in an arc in the moment of the photograph, the man could be falling from a very great, mysterious height as much as performing an energetic dance in an otherwise deserted place. One cannot see the tops of the buildings; it's impossible to know from what heaven, Eden, or twentieth story he might have fallen.
It adds up to a wonderland of imagery to wander through. The journey through the Festival Pavilion, situated right on the Bay, is rewarded by a cafe with places to sit and review the sensory impact with lunch or a drink. For this viewer, many of the "new" approaches to photography were not totally new, but for this viewer being totally new is not always a value in itself. The chosen theme for a central exhibit was that the photographs had been altered in some way so that they were no longer, you know, just photographs. An artist might puncture the image, glue other objects onto it, or combine it with other media.
In addition to the exhibitions, PhotoFairs scheduled public programs, panels and artist talks. For more information, see www.photofairs.org. For online tickets: www.photofairs.org/sanfrancisco/visitor. PhotoFairs will return to Shanghai and San Francisco, Sept. 2017, and Jan. 2018. Picture of lady reaching toward the train is a detail from Paul Fusco's photographs; picture of man with two children is a detail of Seydou Keita's pictures. Pictures shown here may not be reproduced or used for personal or professional/commercial purposes. They are the property of the galleries and artists. Picture of La Chute #2 is courtesy De Soto Gallery, Venice, CA. Seydou Keita's work is represented by Danziger Gallery. Paul Fusco's work is also represented by Danziger Gallery, New York.