Tonight, 11/26, is (now "was") this season's last performance of Puccini's first masterpiece, Manon Lescaut, at the San Francisco Opera. It puts the "Grand" in its rightful place in "Grand Opera." The Hedgehogs attended the matinee, Sunday, November 24, and still think about it, hear it and see it in the minds' eyes and ears. All of the performers were eye opening and heart rending in their characterizations and superb voices. The leads, Lianna Haroutounian, as Manon, and Brian Jagde, as Des Grieux, both made their role debuts. They were stellar. Ms Haroutounian captures the pathos, silliness, beauty, and tragedy in Manon while fulfilling all that Pucinni could desire through her voice. Mr. Jagde is ardent, naive, and heroic with a soaring voice and powerful presence.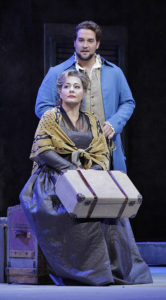 Manon Lescaut (Lianna Haroutounian) meets Chevalier Des Grieux (Brian Jagde).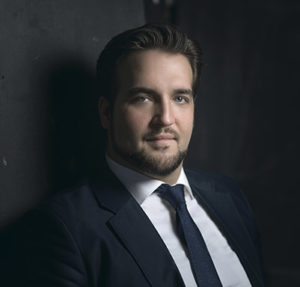 Brian Jagde
The Conductor was the first reason we chose to see this opera. Nicola Luisotti was SFO's Music Director, 2009-2018. He is such an appealing artist: full of energy, radiating the joy of being in music, and able to summon the greatest music from his instrument, the SF Opera Orchestra. They made the music shimmer, explode, and embrace the voices. It was an extraordinary range of music and one felt as though Puccini was being channeled through Luisotti.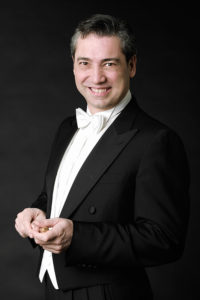 Nicola Luisotti,Conductor, principal guest conductor at Madrid's Teatro Real, recently conducted La Traviata, Aida, and Rigoletto at the Metropolitan Opera, La Forza del Destino at the Paris Opera, Il Trovatore at Milan's La Scala
The story follows Manon from her arrival at a coach stop on her way to enter a convent to her death on the desert plain of Louisiana. (A program note reminds us that in 1731 when Abbe Prevost wrote the novel, Louisiana could refer to the whole Territory, not only to the swampy, hurricane prone state.) Chevalier Des Grieux falls in love with her on the spot. He invites her to stay with him. The innkeeper helps them escape because just a few minutes earlier he had arranged with Manon's brother, Lescaut, to help Geronte de Ravoir carry her off to seduce her. This "seduce" is a euphemism for "rape."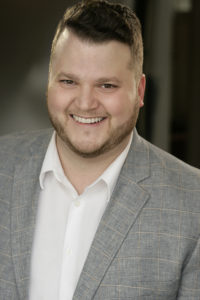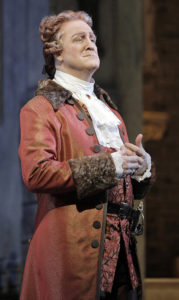 Anthony Clark Evans (L) was Lescaut; (R)Philip Skinner as Geronte de Revoir. Both were totally believable as they embodied their roles and created their complex characters through vocal power.
Lescaut first appears to be a bad brother. He is willing to help a wealthy rake abscond with his sister for the prestige and money to be gained. Later, he realizes his sister is terribly unhappy and yearns for the peaceful love she experienced with Des Grieux in their cottage. In Act II, he runs to tell Des Grieux to come to Manon at Geronte's palace. Manon has indulged in jewelry and fashion but still loves Des Grieux. They decide to run away together. Lescaut will help, but Manon wants to take her jewels with her. In the minutes she spends scooping up pearls, Geronte and his guards capture them. Another plan goes astray as Manon, in prison wearing rags, awaits being branded and shipped off to the New World. Des Grieux demands to be shipped away with his love and other convicts.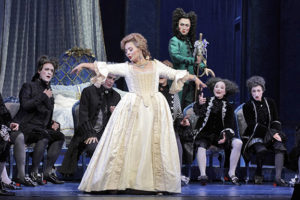 Lianna Haroutounian, Manon, dances a minuet as Geronte and friends look on. Zhengyi Bai is the Dancing Master (above center).
As we near the year 2020, the 100th anniversary of women winning the right to vote in the USA, it is impossible not to notice Manon's plight. A bit of a nit wit, she is also a teenager with no sign of education in a society with few alternatives for females. The convent. A financially secure marriage. Although women appear in the opening market scene and in Manon's boudoir, Manon is the only named female character in the opera. There is no female friend, relative or rival. She is alone at the stag party that is her world. She introduces herself saying that her father dictated her fate. Through time, her life is molded by her brother, by Geronte, less so by Des Grieux, and quite a bit by her inexperience and ignorance. A painful moment for the audience came in seeing her dance a minuet for an audience brought together by Geronte. Bewigged older men watch her. She thinks she is dancing beautifully and proudly in her gorgeous gown. From the view of the rakes, she is a delectable performing monkey exciting their desires.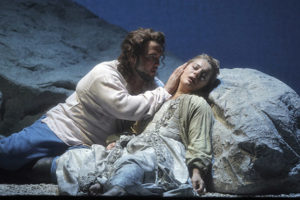 Brian Jagde, as Des Grieux, Lianna Haroutounian, as Manon, face death in the New World.
The lovers' ends are inevitable. Their last acts show them wandering alone on a desert without food, water, or a sense of where they are. One line explains that they ran away from the others so that they would not be separated. Life: as Tina Turner's song states, What's love got to do with it? Better not to consider if she would have been happier safe in the convent. Abbe Prevost's novel was immediately banned by the French. Even now there is a lot to object to in the story, though our objections come from other issues. As an opera, Manon defines the genre.
Photos courtesy of the San Francisco Opera. Brian Jagde by Liesl Kundert, Nicola Luisotti by John Martin, Antony Clark Evans by Simon Pauley, Philip Skinner unattributed, all scenes from the opera by Corey Weaver.