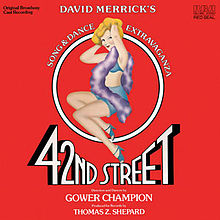 Have you ever heard someone describe reading a book by skipping through it for "the good parts," or watching a movie by using the fast forward to see just "the good parts?" 42nd Street is ALL good parts; the greatest Broadway songs, the most amazing dancing. The dialogue lasts only long enough to set up a reason for the next dance. There are a couple of plots which are resolved in the songs and dances. This is a great show. Its run at Artis-Naples included six shows; two days had matinees and evening shows. How did the dancers do it? The high energy and extraordinary talent never flagged. Their performances in Naples opened their sixteen week, fifty city tour. Give yourself a gift; see it.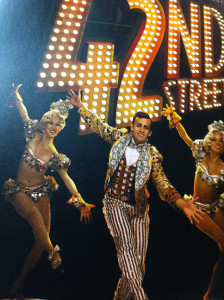 42nd Street was originally a novel by Bradford Ropes. In 1933, it became a successful, Busby Berkeley movie. Its original production as a Broadway musical was in 1980, produced by David Merrick, directed and choreographed by Gower Champion who won Drama Desk and Tony awards for the choreography. Gower Champion, tall, handsome ballroom dancer with his wife/partner Marge, became an multi-award winning Broadway choreographer and director. Life is more dramatic than theater would dare to be: Champion died the afternoon of 42nd Street's premiere. Merrick made the announcement at the closing curtain. Not even the ingenue dancer lead, Champion's real life girl friend, knew it had happened.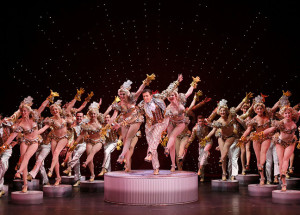 The Broadway show was revived in 2001, ran for 1,524 performances, and won Tony awards including Best Revival of a Musical. The story: Peggy Sawyer, a young dancer-singer from Allentown, PA, arrives late to audition for the ensemble of the new show, Pretty Lady. She physically bumps into the producer, shows her dancing, and is taken into the ensemble. The leading lady, Dorothy Brock, a well known singer, suddenly cannot do her part, the other dancers suggest that Peggy is the perfect replacement, and she is. The producer, Julian Marsh, falls for Peggy. In this company, Peggy is played by Clara Cox, Dorothy by Kara Gibson Slocum, and Julian by Matthew J Taylor. They were sensational. The other actor-dancer-singers were also sensational, "triple threat" stars. The original music is by Harry Warren; lyrics by Al Dubin. 42nd Street the movie with Ruby Keeler and Dick Powell had the songs: 42nd Street, You're Getting to be a Habit with Me, Young and Healthy, and Shuffle Off to Buffalo. The Broadway show includes more Warren and Dubin songs: Lullaby of Broadway, from the movie Gold Diggers of 1935 won the Academy Award for Best Original Song, 1936; We're in  the Money was in Gold Diggers of 1933; I Only Have Eyes for You, was in the 1934 movie Dames. There are even more great songs, all by Warren and Dubin. When Matthew J Taylor sings Lullaby of Broadway, you will feel the audience catch its breath. It is a very great moment. The tour covers the country; for example, Wilkes Barre, PA; Buffalo, NY; Davenport, IA; Rockford, IL. Every cast member  deserved an ovation. As Julian Marsh says, "You're going out there a youngster, but you've got to come back a star." Don't miss it. Artis Naples offers an outstanding Broadway series including Something Rotten! and Beautiful. See artisnaples.org for more information.