The Baker Museum, part of Artis – Naples, Southwest Florida's premier center of visual and performing arts, is showing the exhibition, In a New Light: American Impressionism, 1870-1940, until March 12, 2017.  It is a vast and varied collection of more than 100 American paintings and drawings from the Bank of America collection. It is well worth a visit or visits in order to take it all in. There are works by well known artists, and one of the great assets of the exhibition is exceptionally fine work by artists who are not now well known at all. The evolution of painterly techniques demonstrates the American artists' interest in art in France: concern with light; looser, lighter brush strokes; work done outside, in plein air. What's in the pictures, however, is assuredly American. The new light is not only the attention to light and the way it changes our perceptions but also the new perspective from America as it looked at its own world.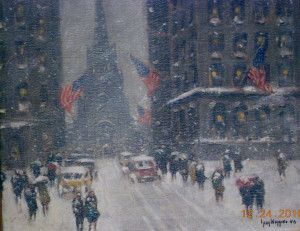 Trinity Church, c. 1930, detail, Oil on Canvas painting by Guy Carleton Wiggins(1883-1962)
The exhibition is organized chronologically, reflecting the growth of artistic schools through nearly a century. The Hudson River School took notice of the great beauty of the American landscape, especially in upstate New York. For some painters, the astonishing sight of Niagara Falls was quintessentially American in its huge size and grandeur. If Americans could not take pride in the antiquity of their relatively new country, they had no need to worry. Their landscapes were more majestic and entirely different than the often painted beauties of Europe.
Old House, East Hampton, 1917, detail, Oil on Canvas, painting by Childe Hassam (1859-1935)
There are fine examples of works by William Morris Hunt and George Innes. Hunt was instrumental in bringing the French Barbizon school to the US; Innes was greatly influenced by it. The Barbizon focus on the beauty of nature influenced the Impressionists. Among  American Impressionists included in the exhibition are Childe Hassam and Lilla Cabot Perry. Early 20th century artists such as John Sloan and George Wesley Bellows, and painters of the American Southwest including E. Martin Hennings, Joseph Henry Sharp and Oscar E. Berninghaus show the variety of people, experiences, and natural settings that make the US.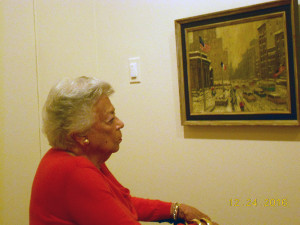 Former Docent at Baker Museum, studies painting in In a New Light: American Impressionism, 1870-1940
Felicie Waldo Howell's (1897-1968) coastal landscapes and Frank Nudersher's (1880-1959) paintings of New York and St. Louis allow American locales to project their personality as though a city sat for its portrait. There is energy in Guy Carleton Wiggins' Wall Street, the flags above it and even the snow falling on it. The painting acknowledges it's not the Champs Elysee while it uses techniques learned in part from the French. No, the work says, "It's not the Champs Elysee, and hooray!"  For more information see artisnaples.org