Leonard Woolf: Bloomsbury Socialist
By Fred Leventhal and Peter Stansky
Oxford University Press, 2019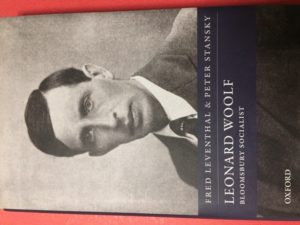 Leonard Woolf was the secular saint who helped his famous wife, Virginia, through mental crises. Historians Leventhal and Stansky show he was much more. Leonard Woolf was also a leader, scholar, activist, successful author of fiction and deeply researched papers on international government and economy, creative co-founder and business director of the Hogarth Press, anti-imperialist statesman, Foreign Service diplomat, spokesperson for mutual security agreements of the League of Nations, devoted gardener, dog lover.
This is a breakthrough book. It restores Woolf to a place of his own and demonstrates why his contemporaries revered him as a moral intellectual, a paragon.
The first part, The Personal Journey, covers Woolf's family, education, marriage, friendships all in historical context. It gives an intimate look at his years in Ceylon (now Sri Lanka) in the Foreign Service. This section examines the influence Woolf's friends had on his intellectual and spiritual development. Virginia, through their love and shared work, is a major presence. In Ceylon, he had authority over a large district. He collected revenue, dispensed justice, interacted personally with individuals. While he worked twelve hour days, expanding agriculture and building schools, he received letters from his friend Lytton Strachey urging him to propose to Virginia, maybe by telegraph. This part of the book is distinguished by psychological insights, sympathy with the subject, and examination of social and intellectual classes.
The second part, The Political Journey, analyzes Woolf's studies of economics, trade, and labor in nations and colonies around the world. He wrote for the Fabian Society and the Labour party. Woolf was aligned with the Fabian Society, the British Socialist organization that sought reforms leading to democratic socialism. However, Woolf favored individual rights over state authority and nationalism. In early days in Ceylon, he believed that Britain helped colonials solve problems. Later, he favored self government. He adopted that attitude toward other British colonies, though not all simultaneously. His many, gigantic research projects include the books Empire and Commerce in Africa, written for the Labour Research Department (1920), International Co-operative Trade, the Fabian Society, 1922; both published by George Allen & Unwin. Foreign Policy: The Labour Party's Dilemma, Fabian Research Series/Victor Gollancz (1947)
The presentation of the studies' details and purposes is admirably clear and shows how the work shaped Woolf and how his intellect shaped the work.
Labour's dilemma was how to react to human rights abuses in the Soviet Union. Woolf's opposition to the Soviets' cruelty was steadfast as it would be to China's. His lifelong belief that an international system was the only hope to avoid another cataclysmic war led him to advocate for the League of Nations. His findings supported collective security agreements. He was among the first British writers to recognize the truth about the Nazi regime.
For the United Nations, he urged collective security against militarized nationalism. His work is timely now: international cooperation is threatened by attacks on the European Union, the US refusal to support the World Health Organization, and scorn from Brazil and the US for steps against climate change.
At St. Paul's, his public school, though an outstanding scholar and athlete he was taunted for being Jewish. At Cambridge he was part of the most elite, intellectual cliques yet defined by friends as a Jew. Judaism and Hellenism combined to form his philosophy. He credited the Hebrews with establishing the value of individual lives through the non-negotiable Ten Commandments and the Greeks with secularizing government by being skeptical about religion while keeping spiritual values. His integrity was as powerful as his intelligence. This book brings us Leonard Woolf, and we need him.
The Authors:  Professsor Fred Leventhal taught British history for 35 years at Boston University. He also taught at Harvard, Boston College, and the University of Kent (UK). He was co-editor of the journal Twentieth Century British History and is former president of the North American Conference on British Studies. Professor Peter Stansky taught at Harvard and then at Stanford University and is the Frances and Charles Field Professor Emeritus of British History. He also served as president of the North American Conference on British Studies.
review by Leslie Friedman, published Fall, 2020