Introduction:  In studying history I was fascinated to learn how details of ordinary life can fill in the whole picture of an era or a place. In her essay below, Nancy Fryer Croft, art restorer and art historian, demonstrates how the search for a particular kind of silk reveals the dramatic changes in New York City from the late 1990s to the present. Part of this essay appeared first in the Vassar College Reunion Book, June, 2019.  Leslie Friedman

New York used to be a place where you could buy virtually anything, and have several kinds of that thing to choose among. While I was working at the Philadelphia Museum of Art in the late 1990s, an exhibition was organized featuring two nearly identical versions of Jan van Eyck's St. Francis Receiving the Stigmata, one from Philadelphia's Johnson collection, and the other on loan from the Turin museum. Philadelphia's painting is barely postcard-sized, and set in a maroon velvet mat within its frame. The staff wished to reframe the only slightly larger Turin picture in a similar manner for the exhibit, so that the settings for the two paintings would be comparable. A conservator had been all over Philadelphia looking for maroon velvet like that of the Johnson mat, checking home furnishings as well as apparel fabric sources, but all she could find was far too purple.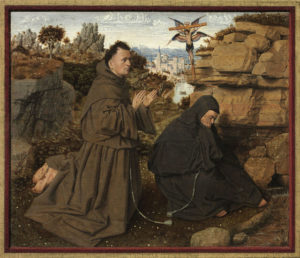 St. Francis Receiving the Stigmata, Jan van Eyck, 1430-1432, dimensions 5 X 5 3/4
I went to graduate school in art history after Vassar, and only later switched to art conservation. I was ahead of my conservation classmates in the program, since I had already gone beyond the art history requirements. Although I had no background in Far Eastern art, I was given several Tibetan thankas to treat, scroll paintings mounted in antique textiles. Old silks are invariably in poor condition, and I became familiar with the multitude of fabric shops on West 38th and 39th Streets, near 7th Avenue, in the heart of the garment district. I would get swatches from scores of variants of the colors I needed, sometimes subtly off-black, or navy with a brownish cast, so I could choose a mounting fabric compatible with the ancient textile back in the conservation lab.
I told the Philadelphia conservators I was fairly certain I could find some maroon velvets in New York whick might be suitable for the reframing, and spent the next day around 7th Avenue, gathering swatches. Back in Philadelphia the following day, the curators and conservators were delighted with my finds. They held the little samples of cloth next to each painting, and finally came to a consensus on one with "just the right liver-ish tone" (I believe it was a bolt leftover from something Donna Karan had made).
Most of those fabric stores are now gone, as are nearly all of my other favorite resources. I also mourn the loss of the city's little auction galleries, which I found nearly so instructive in teaching discernment as are the great museums. I'm glad to have experienced something of an earlier era in my city, a time of neighborhood hubs of diverse crafts and trades, with shops stocked to the dusty ceilings and quirky shopkeepers. Money, however, has always trumped all in New York, and real estate and art, whatever their human values, have become commodities.
by Nancy Fryer Croft