The Lively Foundation is excited to announce the dates and events of International Dance Festival@Silicon Valley, 2019. OUR 8TH SEASON! This year, IDF@SV takes place in May. The Full Day of Dance© will be on Saturday, May 18. First class begins at 10 a.m. Last class ends at 5 p.m. The Festival Concert will be on Sunday, May 19, 3 p.m. ALL EVENTS take place at the Mountain View Masonic Center, 890 Church Street, Mountain View, CA 94041. There is free parking on the street around the Center and in the parking lot behind the building. It is also an easy walk from CalTrain.
FULL DAY OF DANCE© You may take any number of classes, but for the BEST DEAL & THE MOST FUN: TAKE THEM ALL! Ballroom (Cha Cha and Waltz), Ballet, Etta's Electric Line Dances, Pilates mat, Tap. The best teachers anywhere, all of them are established, acclaimed artists in their own movement styles and all of them are devoted teachers. No partner for Ballroom? No problem; partners will be provided by the teachers. Each class is one hour long, open to mixed levels of training or dance experience, best for participants age 14 and older. Any age adult is welcome. Class costs: Price per class reduces with each added class. Early Bird registration: $20 single,$36 for 2; $48 for 3; $56 for 4; $60 for all five; Regular registration: $25 single; $40 for 2; $54 for 3; $64 for 4; $70 for all five.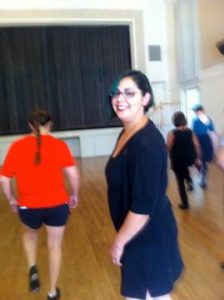 Audreyanne Delgado Covarrubias teaching Tap
FESTIVAL CONCERT The Festival artists perform and choreograph new works special for this concert. Premieres by Audreyanne Delagado Covarrubias, Kris Mola, Leslie Friedman. The Awardees of the annual Choreography Competition present their award winning works. This is a Very Special Event for dance lovers and those who are interested in getting to know dance in the intimate, summer stock style setting of the Festival Concert. The dances will range from Contemporary to Traditional, international dance forms; Ballroom to Hip Hop. It is not to be missed! Tickets are $20 general admission; $12 for over 65 or under 10. Sponsor Tickets: $35 or more by your choice (reserved best seat and tax deductible donation). Group ticket discounts are available. Please contact The Lively Foundation for group information.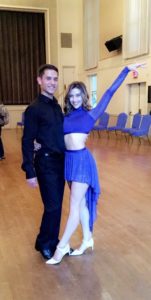 Taylor Florez & Casandra Armenta thrilled the audiences with their Hip Hop at IDF@SV, 2018 and return to the Festival Concert, May 19, 2019
FESTIVE FESTIVAL DINNER! Join artists and audience members at a fun, delicious dinner after the show. We will meet at Amici's Pizzeria which is about a block and a half from the Masonic Center. Dinner plus the show: $40.
TO REGISTER AND BUY TICKETS: email livelyfoundation@sbcglobal.net  If you are registering for classes tell us which classes, and if you are buying tickets, tell us how many and which type of ticket. Please mail us a check made out to The Lively Foundation and mail it to The Lively Foundation/550 Mountain View Avenue/Mountain View, CA 94041-1828   OR if you need to use a credit card please go to the landing page of this blog, scroll down the page until you see the PayPal logo, click on it and follow directions. PLEASE let us know what classes you are registering for and how many and which kind of ticket. It is absolutely necessary for you to email us this information or, when you appear for class or performance, we will have no idea that you paid or paid for what. OR you may pay at the door.
THANK YOU!