San Francisco's Contemporary Jewish Museum revels in showing the works of diverse artists in diverse media, but in the show CONTRAPTION, it changes its norm and focuses on a group of Californian Jewish artists. The group includes living artists and some who have passed away as well as very well known artists and some who are under-recognized. The theme is artists' responses to machines. The result is a collection of imaginative, inventive work by a wide variety of artists creating in many different ways. The show will stay up through July 29. This writer visited it twice and found new delights each time.
.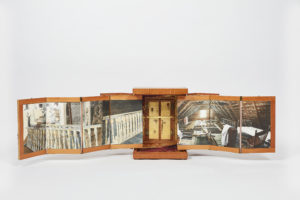 Photo box by Bruce Handelsman, (b. 1953 – d.1992), San Francisco, CA
The collection includes paintings, drawings/cartoons by Rube Goldberg, sculptures, installation art. There are remarkable, hanging sculptures that look like twisted, spinning ribbons but are made out of many #2 pencils. There is an elaborate, very large contraption which weaves a long thread hanging from the ceiling. The process of making it begins with two visitors pedaling. Rube Goldberg's smiling influence is present.

Miriam Dym (b. 1969), Berkeley, CA. Ms Dym took on a long term project anthropomorphizing machines, first in ink and acrylic works. This process developed, using computer graphics, into complex installations filling whole rooms' walls and floors and becoming sculptures.
The exhibition's art reacts to traffic, factories, pollution, as it also embraces the ease of machinery or the humor of machinery. Visiting this exhibition opens the imagination of the visitor and encourages contemplation of one's own interaction with the contraptions that shape our environment, the devices we clutch and poke at.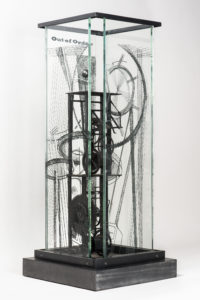 Bella Feldman (b. 1930), Oakland, CA , sculptor, creates "anxious objects."
Wandering through the exhibition and taking time to relate to the works very likely will inspire the creation of one's own useful or aesthetically pleasing contraptions.
This year, the Contemporary Jewish Museum celebrates its 10th Anniversary in its landmark building on Jessie Square. It is built on the site of an historic Pacific Gas & Electric power plant. The front of the plant and other parts have been maintained in the building designed by internationally acclaimed architect, Daniel Libeskind. The CJM does not have a permanent collection. Instead, it welcomes distinguished exhibitions and allows its curators to establish new, thought provoking and beautiful exhibitions. The result is that there are always things happening and new experiences to absorb.
Other current exhibitions and events include:  In That Case: Havruta in Contemporary Art–Oxossi Ayofemi and Risa Wechsler (July 28-July30): Visual artist Oxossi Ayofemi and her partner, Stanford physicist Ris Wechsler present Black Matter, discussing the "nature of the elusive dark matter that fills the universe, as well as notions of presence and absence, and latent abundance in African American culture."    What We Hold: Youth Voices on Roots and What Matters Most. "Over 70 teens, ranging in age from 14-18 created individual audio segments reflecting on family journeys, music, food, traditions, language, and moments of choice that have made an imprint on their identities." (through March 25, 2019)
Visit the CJM at 736 Mission Street, San Francisco and online at thecjm.org     It is open daily (except Wed.) from 11 a.m.-5 p.m., Thurs. 11 a.m.-8 p.m. People aged 18 and younger are ALWAYS FREE.  FREE admission FOR EVERYONE on Tues, July 3. PHOTOS:  B. Handelsman photo by JKA Photo; M. Dym photo by Jeannie O'Connor; B. Feldman photo by Matty Nematollah. All photos courtesy of the CJM.