May 11, 2023, San Francisco Symphony, Davies Hall: It was a great night for the music. There were thrilling debut performances of music and by the artists. Violinist Hilary Hahn was scheduled to perform Johannes Brahms' Violin Concerto in D major, Opus 77 with the SFS. Illness made it necessary to cancel. What could take the place of Brahms and Hahn? The fully packed audience learned the answer: pianist Bruce Liu, a great pianist who gave us Ludwig Van Beethoven's Piano Concerto No. #3 in C minor, Opus 37 (1800). This was Mr. Liu's debut performance with the SFS; he was the complete artist for Beethoven. The program opened with Darker America (1925) by William Grant Still. It was the SFS's first performance of this classic music which combines music, history, and emotion. One can hear the composer's thoughts. Closing the event was Ein Heldenleben, Opus 40 (1898) by Richard Strauss. Strauss is best known for his operas; this piece for orchestra presents the drama that propels his operas. The conductor, Rafael Payare also made his debut with the SFS. He is in his fourth season as music director of the San Diego Symphony and his first season as music director of the Montreal Symphony. He has conducted major European orchestras Including the Vienna Philharmonic, Staatskapelle Dresden, Zurich Tonhalle Orchestra, Leipzig Gewandhaus Orchestra, London Orchestra, and more.

Rafael Payare, conductor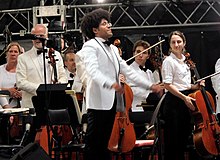 Music Director, Montreal
Maestro Payare shares his electric presence with the orchestra and audience. His gestures are clear and his physical movement expresses the rhythm, shape, and character of the music. He is exciting to watch and more than that he reaches into the orchestra players' musical beings. Their music is alive with energy in response to him, making a thrilling concert.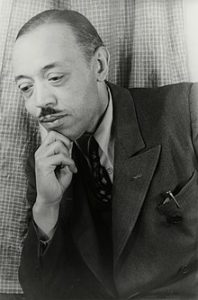 William Grant Still, conductor (1895-1978). Photograph by Carl Van Vechten (1949).
Composer William Grant Still created prolific and varied works: 5 symphonies, 4 ballets, 9 operas, more than 30 choral works, chamber music, art songs, and pieces for solo instruments. His work was successful and embraced by music institutions. He was the first African-American composer to have an opera, Troubled Island, produced (1949) by the New York City Opera and the first to be produced by a major opera company. His first symphony, Afro-American Symphony (premiered in 1931) was the first performance by a major American symphony orchestra of a work by an African-American composer. His career was one of many "firsts," and his work surely deserved the recognition. He was also the first African-American to conduct major American symphonies, the Hollywood Bowl and the Rochester Philharmonic. He studied with George Chadwick who encouraged him to create music out of an authentic American voice. He also studied with Edgard Varese, the avant-garde French composer. Still was grateful for his time with Varese although he did not follow his avant-garde way. He dedicated Darker America to Varese. Still wrote a program note describing the changing emotions of this tone poem. It depicts the "American Negro. His serious side is presented and is intended to suggest the triumph of a people over their sorrows …"  There are three themes: sorrow, hope, and a "theme of the American Negro." The music suggests their hardships. The English horn begins the sorrow theme; hope is found in the "muted brass accompanied by strings and woodwinds." The music does not promise a happy ending. Sorrow and hope lead the people to overcome their struggle. The themes join in the ending notes, more subdued than joyful. Although only 13 minutes long, this piece is musically refined, powerful, and moving. One hopes that SFS's performance will begin a revival of this piece in other major halls.

Ludwig Van Beethoven, composer (1770-1827)
In his early career, Beethoven often performed piano concerts, includeding improvised music. His partnership with the piano meant that many of the pieces could not be performed by anyone else. It was also true that his piano music was too difficult for lesser beings. His realization of his progressive deafness led him to withdraw from his appearances. He could no longer do the piano parts he composed or sail through improvisations, creating as he played. The Piano Concerto No. 3 in C minor, Opus 37 was probably written in 1800, and premiered in 1803. For music specialists, Beethoven's work is divided into three eras. This Concerto sits on the fence between the first and middle eras. It maintains the purity of Mozart's and Hayden's classical style, but Beethoven's energy and grand heart, convinces the Concerto to jump off the fence. As played by Bruce Liu, its invention and demand for a pianist of Beethoven-quality let us hear the greatness of the composer.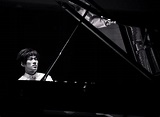 Bruce Liu, Pianist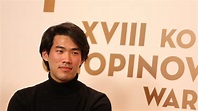 Bruce Liu after winning the 18th International Chopin Competition in Warsaw, Poland, 2021.
There was not a moment of the Concerto in which the listener could relax. This is not a warm bath of music. There are sudden changes of key and from soft to loud. The audience was literally on the edges of their seats, ears up, eyes open. Mr. Liu's style is restrained, no wild arms flaring around; he sat quietly and opened worlds with power and finesse. The music pulses with feeling that makes it different from the earlier Beethoven and classical predecessors. Beethoven pushes humanity forward. His music demonstrates what humans could be and could do. Davies Symphony Hall seemed to levitate when the music ended. No one wanted it to end. After several curtain calls, we were surprised to see Mr. Liu sit down to play Liszt's etude, La Campanella, which is based on a virtuoso violin piece by Paganini. Wishing Ms Hahn a speedy recovery, he said, "This is one for the violin lovers." It is intricate, fast, and faster, making circles within circles of music like concentric roller coasters.

Richard Strauss, composer, conductor (1864-1949) Painting by Max Liebermann, 1918, below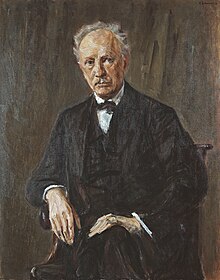 Ein Heldenleben, Opus 40, by Richard Strauss, is called a tone poem as is Darker America. It is operatic in the sweep of the story of a Hero's Life. It is the composer's own story made into music. In a note to himself, Strauss wrote, "–the man is visible in the work." The on-going debate over a program, story, or theme in serious music (and painting, dance, writing) was on his mind, and he went ahead with his own sort of program. There are dramatic episodes; it opens with a lush, passionate, bold depiction of The Hero. The music changes radically to abrasive, "cutting," "hissing," sounds; those words are written on the score. It is Strauss giving the critics and critical public a large and nasty presence in this music. SFS's Concertmaster, Alexander Barantschik, played the violin solo majestically. His solo work was devoted to the part describing The Hero's True Love. Strauss wrote to the novelist Romain Rolland that his wife, Pauline, was "very complicated … tres femme, a little perverse, a bit of a coquette, never the same twice." The Hero and his True Love are playful, they follow each other and then stay away. In The Hero's Works of Peace, The Hero goes to battle but also to make peace. The closing section is The Hero's Escape from the World and Completion; his battles are over and the music becomes tranquil. One of Strauss's friends protested the quiet ending. The composer changed it to something completely different, loud, profound, and fitting for the mysterious character of The Hero. Ein Heldenleben was more exciting than an action hero's movie. Its rich, gorgeous music was even fun to hear.