The San Francisco Symphony demonstrated its expressive depth and powerful musicality playing inventive "new" music by Jorg Widmann and inventive slightly older music by Gustav Mahler, on January 21, 2023. Robin Ticciati was the superb conductor. He succeeded in seeming, first, a conductor devoted to and promoting new works and then became a great Mahler exponent. He was equal to the challenge in San Francisco; a population of Mahler-ites thanks to Music Director Laureate Michael Tilson Thomas. Maestro Ticciati is the music director of the Deutsches Symphonie-Orchester Berlin and music director of Glyndebourne Festival Opera.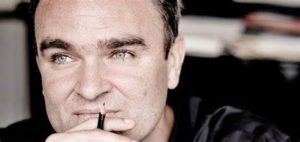 Jorg Widmann, Composer
Widmann's Violin Concerto occupied the first half of the concert. It demonstrates the composer's interests in varying emotions, colors, tonality. Widmann's Violin Concerto called upon the violin soloist, Alina Ibragimova, to play straight through the 30 minute piece with tremendous vigor, emotion, and the stunning, wonderful, all embracing philosophy which is heard in Widmann's creation. The concerto could not have a more fitting soloist. Ms Ibragimova embodied the very three dimensional world of sound. There are two brief moments of silence which intensify the the sound through its absence. The San Francisco Symphony was with Ms Ibragimova as though the music had grown organically especially for them. The music demanded focus from its audience in order to hear the layers of music and accompany it on the many paths that made its journey. The concerto was premiered in 2007, Essen, Germany. This was its first performance in San Francisco. The Alban Berg Violin Concerto may be an ancestor of Widmann's; however, Mr. Widmann's concerto comes to Earth 88 years later than Mr. Berg's. There is so much more to consider, consolidate, commune with in the look and feel of our world even though our loves and human lives carry forward similar longings. All this was compressed and still audible in Widmann's blazing work.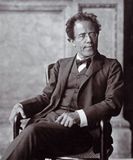 Gustav Mahler (1860-1911): Composer
Then, it was Mahler's Symphony No. 4. It is called the sunniest of Mahler's symphonies. It is a Mahler symphony so there are recognizable meetings with love, country folk, heaven on earth, Death and the Devil. Mahler is about life in its largest, most world encompassing ways of expressing the back bone of human existence and the beyond 20/20 human vision. While this No. 4 visits the country folk, it is not for buffoonery. The tune of the violin is pleasant but cannot be brushed off because of the very quiet, pianissimo way it presents itself. The sections of the orchestra take turns interrupting or interpreting one another's rhythms and melodies: from the clarinets and bassoons to a horn, then a bassoon, and then cellos and basses carry the musical thoughts away. It could resemble athletic practice on a field passing a ball while running and dodging, jumping in time, and crossing over the line of runners. Michael Steinberg, the late, great music writer, points out that Mahler had wonderful titles for his movements but did not like "to betray them to the rabble of critics and listeners" who would not understand their meanings. Mahler's name for the Scherzo, for example, was Freund Hein spielt auf (Death Strikes Up – Freund Hein being the evil one in a fairy tale).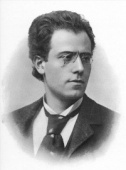 The Adagio could lull the listeners into a peaceful but absent minded state. There are warnings. The tempting melody is punctuated with a quiet tolling sound from the basses and even quieter harmonies from cellos and bases.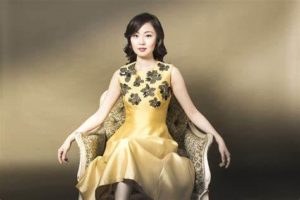 Ying Fang, Soprano
A solo voice appears suddenly. Soprano Ying Fang entered the stage quietly to sit near the percussionists. Her voice is arresting, beautiful, and, in this context, somewhat alarming. Her performance must have stopped everyone in their mental tracks. Mahler gave the vocalist a very silly song to sing, and yet the three movements that preceded it were intentionally directed to this goal. As the Symphony No. 4 began with bells, bells return. Mahler chose a Bavarian folk song for his uplifting conclusion. It is Der Himmel hungt voll Geigen (Heaven is Hung with Violins). The song lets us know how well the Saints live in Heaven. There are "Good greens of all kinds" and "Good apples, good pears, and good grapes!" If meat is what you want, "deer or rabbit,/they run free in the streets." It seems that the good things of Earth are in plenty in Heaven. That includes the finest music which fulfills its purpose: Saint "Cecilia and her family/are first rate court musicians!/The heavenly voices/gladden our senses,/and everything wakes to joy." If you know people who think Mahler is always tragic or difficult to understand, do a good deed and take them to Symphony No. 4.